Wow this taiga has been a long one to complete. I'll say this is the longest drama I've ever watched. It had ended I think two or 3 weeks ago, but since I have to wait for English subs to fully understand their traditional Japanese, I'm just up to ep 41. Where the ultimate war is about to happen.
The issue here is really not about war. I think it's mainly because of thirst for power, stubborness and control from the older generation against the younger. It came as no surprise that Old Lord Tokugawa Ieyasu has always been trying to push Toyotomi clan to a corner. And he even made a trivial matter from the bell writings (I do think it's TRIVIAL, but I don't really get it anyway), and causing unrest among the Toyotomi when he gave them two choices - surrender Osaka castle OR bring Lady Yodo/Hideyori to Edo. These actions were obviously meaning to say no matter what, they have to step down from the Regent power.
You can say that Ieyasu is thinking far, for the future of his generation, but I really can't help but wonder, isn't peace still the best way out? Instead of killing each other, why not work together? In fact, I fully support Hidetada's wish to stand side by side with the Regent (Hideyori). That brings me to one of the points I mentioned earlier - control of the older generation.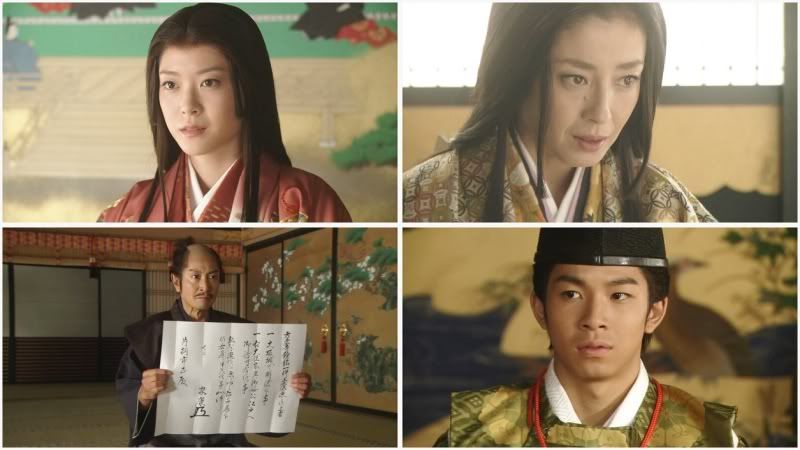 This was clearly seen from how Ieyasu (though supposedly to have retired) and no longer Shogun, he still overpowered Hidetada. Poor guy just could never escape his father's shadow and leash. Hidetada had been Shogun for TEN WHOLE YEARS and yet, he still LISTENED to his father. I get that you respect the old ones, but seriously, when one goes senile and thinks war brings peace and all, you gotta get a grip of yourself and stand your ground and beliefs! The same happened with the Toyotomi side. Lady Yodo or Chacha still pretty much had the final say in everything, leaving Hideyori almost no chance at all. He did speak his mind, agreeing with Hidetada's plan to work together, but too bad his mother is too stubborn to even listen.
Gou is another part of the story which I'm not quite satisfied with. History mentioned how she worked with Hidetada to bring peace to Japan, but I don't see it yet. She couldn't even manage her own son, what more to say the whole of Japan. Women was definitely at the lower level and men controlled everything back then, I get it. Still it's really kinda frustrating to see Yodo and Hideyori having to go down like that.

We all know how this is going to end. I used to like Ieyasu a lot, especially the times when Gou was younger and Ieyasu seemed to fond of her and he definitely was much more wise back then. Now, it's all about power, power, power. I hope Hidetada have a say in this, though it looked pretty bleak. The war continues in the next episode. 4 more episodes to go before I end this Taiga.

Rating: 7/10