Summary:
During the feudal era in Japan, Lord Naritsugu, the former Shogun's son, and also the younger brother of current Shogun, was a sadistic man who kills and rapes like it was nobody's business. Nobody dared to go against him because of his status and his own men were obliged to protect him, not disobey him. Hence, before the loose lord ascended to higher position, Sir Doi, the Shogun's advisor, asked help from a friend, Shinzaemon.
Hearing stories of Lord Naritsugu's terror from the victims, and witnessing the aftermath of his sadistic characteristic, Shinzaemon agreed to the task and began gathering the best Samurais to carry out the mission. Which is why it's called, 13 assassins.
I shall stop with the storyline and just try to pour out my thoughts. The beginning scenes were surreal and it depicted to us, viewers of the Lord's cruel conducts. For example, the raping and also killing of a servant family, very cold blooded. All these were able to incite hatred into him. And we of course hoped for the success of the assassination. You'd wonder how the Lord's men could just stand and watch as he went on a killing rampant, on innocent villagers. But as his main assistant said "We, Samurais are meant to serve our Masters." I think in the samurai world, their lives were probably entrusted to their Masters and they serve only them. A topic that can be debated in this modern time, because frankly, I don't think that anyone would just watch such gruesome acts and do nothing about it.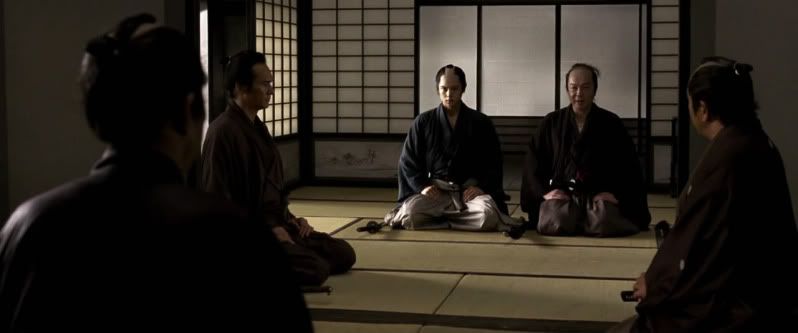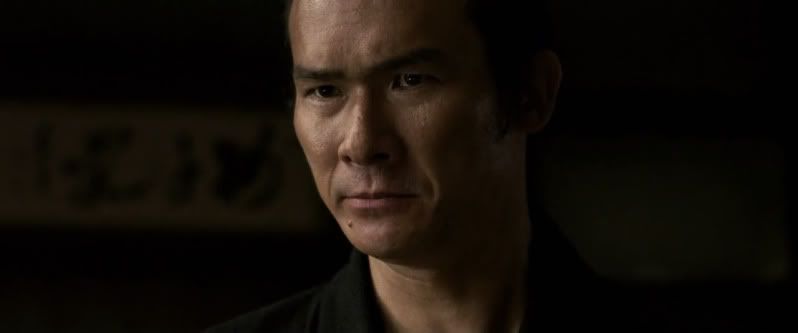 There's one thing I liked, it's very minor but the minor details count. The lighting. I realized just how dim the lights were and they used real flames at night (duh...) but BUT, I just remembered how it wasn't really so in JIN. I mean, the flames weren't flickering obviously in JIN. Here, it created a very real setting of those times. Although it may suffer from picture quality as the light's dim, you probably couldn't see anything that clearly xD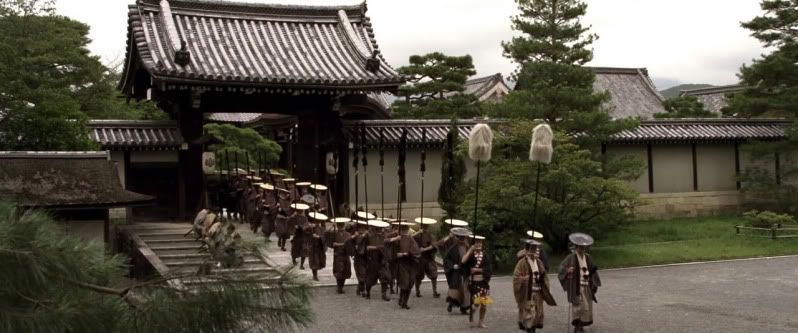 Lol...Yamada Takayuki as one of the assassins. He never strikes me as samurai type tough. So it was kinda weird seeing him in this role.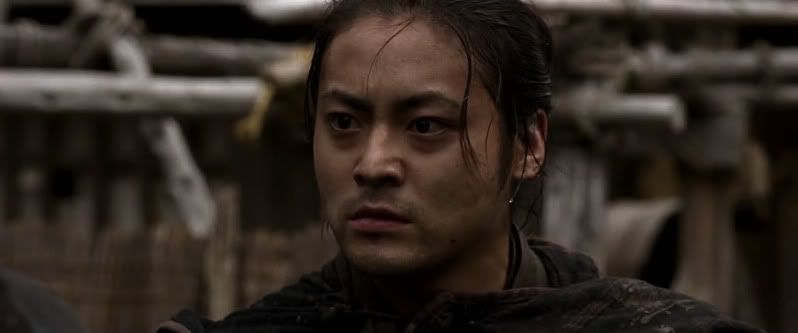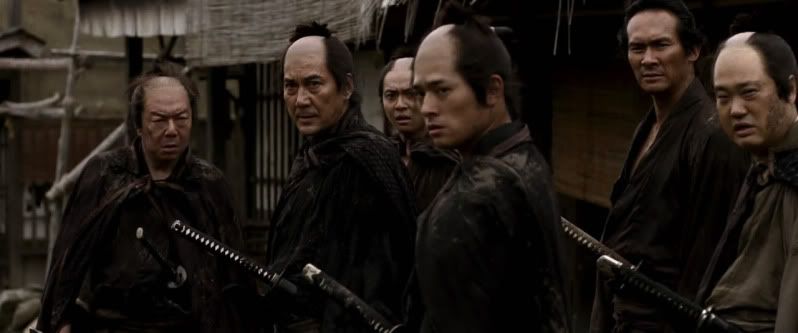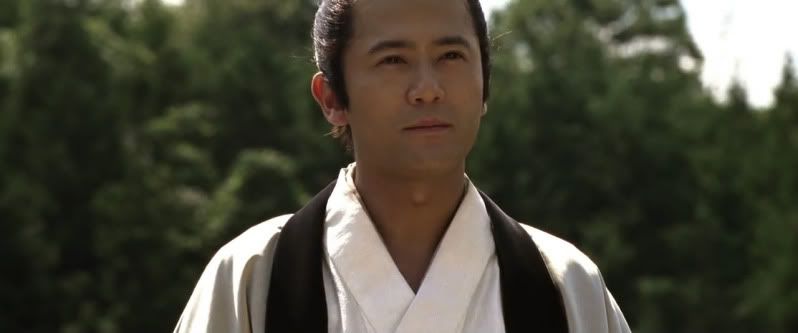 One of SMAP's singers, Inagaki Goro in the villain role. He's been playing a lot of bad guy roles lately, so this is probably just very easy for him. In fact, he didn't have much to do here. I think his looks (eye and facial expressions) are always the same. Just watch Nagarebosh.
But the only thing I appreciate here about this role is how he managed to make the character a bit mental, as in the way he thinks, the way he smiles when his army is defending him. He loved seeing people being in pain.
Another thing worth praising was the whole setup of the town. The town they prepared, built with booby traps everywhere, swords put at various locations for the use of the samurais. The explosions were done very well too. The impact. As usual, you'd expect bloody battle. I think it's still not excessive here, I've seen really over-the-top blood bath in some other movies, till the point of fakeness. It's controlled here, at least. Another surprising role was the last assassin, who wasn't even a samurai but a hunter. His character was supposed to be similar to Monkey God. He was fun to watch though.
Now to the down parts of the movie. One thing I always always always, complained about Japanese movies is the length. Most of them are over 2 hours, which is more than sufficient to get the message across. But I don't know why the directors always surpassed 2 hours. This movie, for example could've been done in less than that, but it spanned till a draggy 2:15 mins. As much as I enjoyed the plot, at times, I get tired of watching a bunch of men, slashing each other though. But since this is a samurai-based movie, that's what you'd expect.
Rating: 4/5