Eisuke (Osamu Mukai) is a former rock band member who had training in cooking. His mother was a chef and until she suddenly passed away, Eisuke decides to take over the restaurant because hasn't been in any good luck either with his indie band after their lead singer quit. Eisuke's mother's restaurant, Le Petit Chou, is now no longer standing in the original premise upon being taken over by a rival played by Goro Inagaki. He then used his father's art studio as the new place for the restaurant. Though having a good potential in cooking and a great taste bud, his work is still unrefined, due the lack of training. However things are looking brighter (at least), with the help from the band ex-members, including Taku, the lead singer who found out his new visual kei band was drug addict. He then returned to find Eisuke and pleaded him for job.
In the midst of it all, Eisuke befriends a local girl whose father owned a nearby vegetable farm, Chie (Miori Takimoto), where he becomes a regular customer. Chie has always been attracted to delicious food of all kinds and ever since she discovered Eisuke's restaurant, she can't help but fall in love with the food he makes, and most probably Eisuke himself too. But here's the catch – Eisuke already has a girlfriend. But judging by the way Eisuke acts around her, and from their relationship, it's only a matter of time before they break up.
As for the drama itself, the mix of comedy with good food and ikemen (ehem), attractive looking men, it's a winner for those who likes light-hearted comedy. Everybody basically plays their part pretty well so far, nothing to complain in that department. Mukai Osamu as Eisuke, the guy who frowns in the entire show fits the character and his use of foul words are like…ummm amusing. That said, I wonder how the customers' reactions are if they find the lead chef wearing something like this?
Or someone who breaks a guitar in front of their store?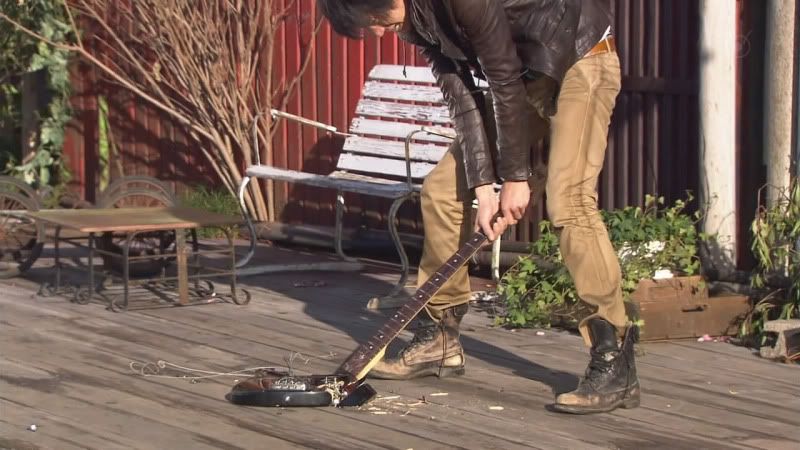 I have to say, Inagaki Goro is like the epitome of irritation and annoyance. He is the antagonist in every single drama that I've seen! Hairstyle never changed. Nor does his look or the way he speaks and walks. the SAME! Not that I'm complaining, but can't he play anything other than the bad guys? Even for once?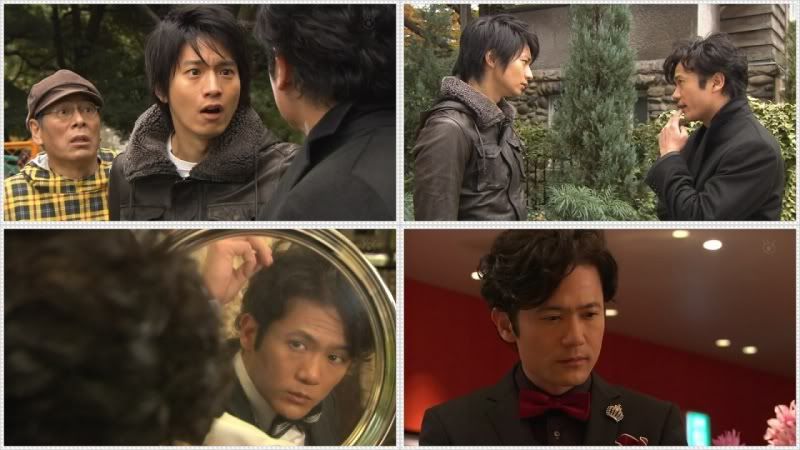 Lol remember her?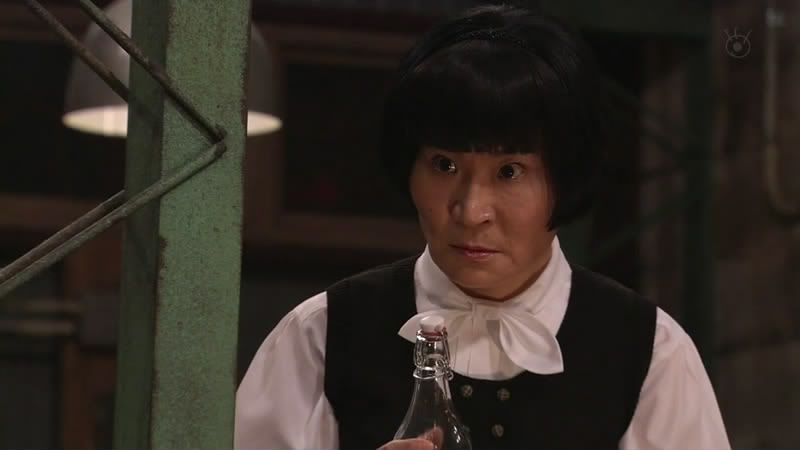 I like the cartoon-ish segment they insert every now and then. It's creative to see the illustrations xD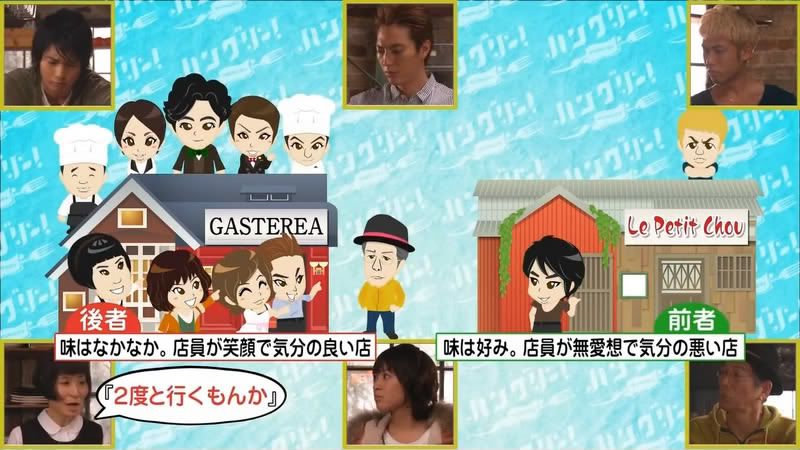 Rating: 8/10
- mix of rock music (though not as much), French cuisine, bunch of amateurs, with a rundown garage as restaurant, it's not that bad after all!