Note: Had fever last weekend and still down with flu. That's why it has delayed my posts these few days. But I'll try to catch up! xDD

The writers decide to give a chance for Jun-chan to shine in this episode and indeed she did! The episode begins with the girls tracking down a wanted criminal for murder and the moment Rei asks him to follow them to the police, I was thinking "yeah right...do you expect him to just waltz with you to the station?" lolz...
But the girls aren't totally dumb in that aspect. They come prepared and are not to be underestimated. Albeit the little net thingy doesn't quite work out the way they wanted. Totally hilarious.
Yup! Count on the bunny phone to solve the case, Jun!
Jun gets all softy after hearing the criminal pleading them to find his alibi and insists that he did not murder his girlfriend. I don't know what strikes Jun to suddenly melt with the words of a criminal but something inside her must have somehow clicked.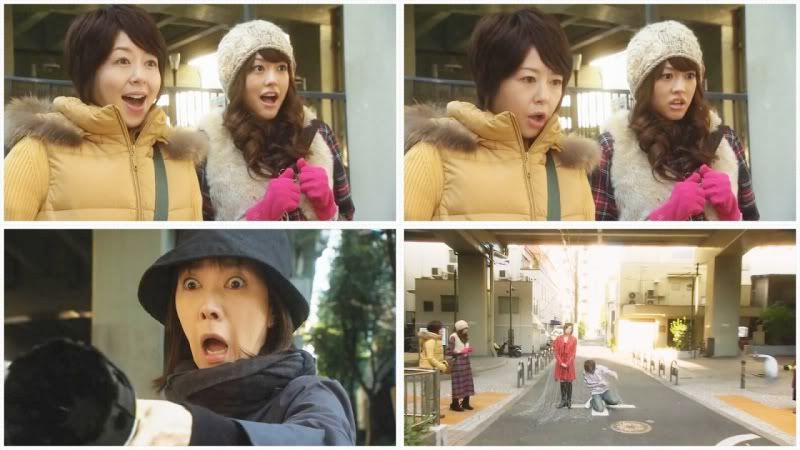 The episode is quite entertaining. The visit to the mysterious bar named Chaconne with a most probably gay waiter, oh the waiter IS the HIGHLIGHT. He totally cracks me up nonstop especially the moment his face gets all bright and cheery and hands flailing everywhere ...epic! And the shorts!
The case? A bit predictable, okay totally predictable...but what I like is they give it all for Jun to take the trophy for this time around. In the beginning, I thought that Jun is one of those 'dumb blonde' characters, but she so proves it wrong here. Her courage and bravery to face the real baddie alone is to be given credits for, though not recommended in real life. Unless you want to die earlier, no you don't just lure the baddie out and think he'll follow you like a trained puppy to the station. But the girl's got guts.

And of course, the bunny phone shall be remembered for a
long
time from now on. She's got brains too!
Another enjoyable episode. The thing about Hunter is, it's a show I don't take too seriously and the kind that I watch for fun and it definitely delivers in that sense. Hasn't actually turned me off yet because the characters are fun!
Rating: 8.5/10
The girls getting excited for the next preview...well I know I am! So see you soon!