Didn't realize this drama's gonna be this short, but it's good though that they make it this way, because I really can't think of any plot left for them to do, unless they show the lives after graduation. But since it's just about their training period and about Tono-Anzai conflict, I'm glad they keep it simple and short.
To recap a bit, Tono finally makes contact with Anzai who asks to meet him. When they did, I actually thought that Tono would've come up with a backup plan to capture him there and then. But he doesn't and keeps his promise in meeting him alone. I think that would be his one and only mistake that led to the later events. But without that mistake, we wouldn't have the dramatic scenes in the last two episodes. Tono gives Anzai a day to think it over and call him when he is ready to go the police. However, what a coincidence for two patrol officers to question Natsumi who's waiting for Anzai to return from his meeting with Tono, nearby.

Seeing the police with Natsumi, Anzai goes berserk, again...and thinks that Tono betrays him. After beating the police up, he takes off with Natsumi, but one of the police takes out his pistol and opens fire. It hits Natsumi and with her injured, Anzai has no other choice but to bring her to the hospital. He escapes before the police comes. Now holding an unforgiving grudge against Tono, Anzai makes his move to the academy and takes all of his students as hostage.
Tono is informed and tries to persuade him. Anzai first tries to make Yuhara to shoot Tono but of course Yuhara isn't that stupid to kill a fellow police. With that attempt to kill Tono failed, Anzai decides to try another method to cause anguish to Tono. He asks him to shoot one of his students and he'll let the rest go. Tono takes the opportunity to give his students his final words and decides to finish it off between him and Anzai alone.The assault team then rush in and in the chaos, Tono is shot. Anzai is finally captured and the students live.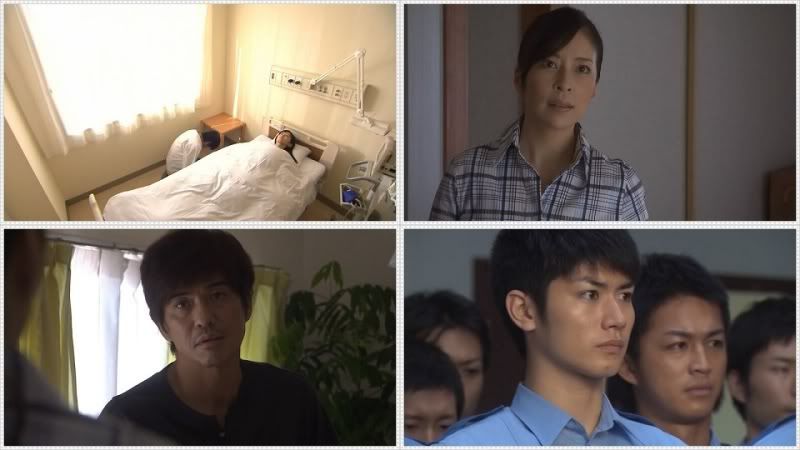 In the finale, Tono is rescued but his wife's condition gets worse and dies. With the death of his wife, Tono sinks into deep depression and voluntarily resigns. The students want him back for their graduation. But Tono refuses and on that very day, Minosawa makes an emotional call to ask him to come. Seriously, is that Minosawa crying?! It's hard to imagine how she's actually moved this much about having Tono back for the graduation ceremony, that's funny. But it works and Tono finally attends the ceremony, duhhh...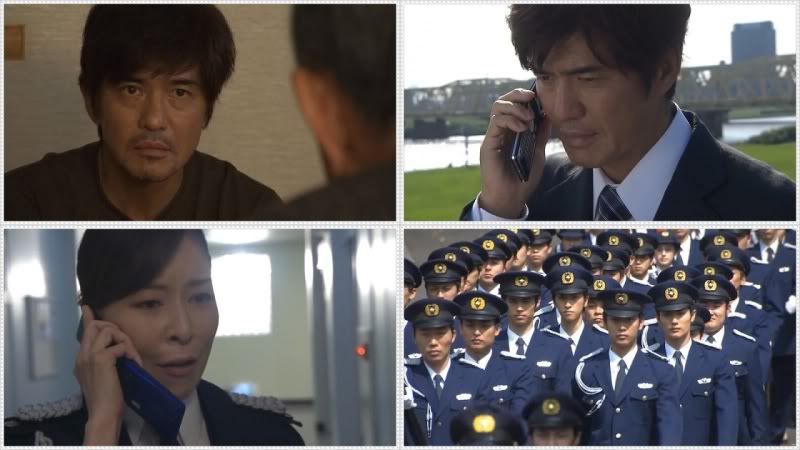 And they have this...crying session...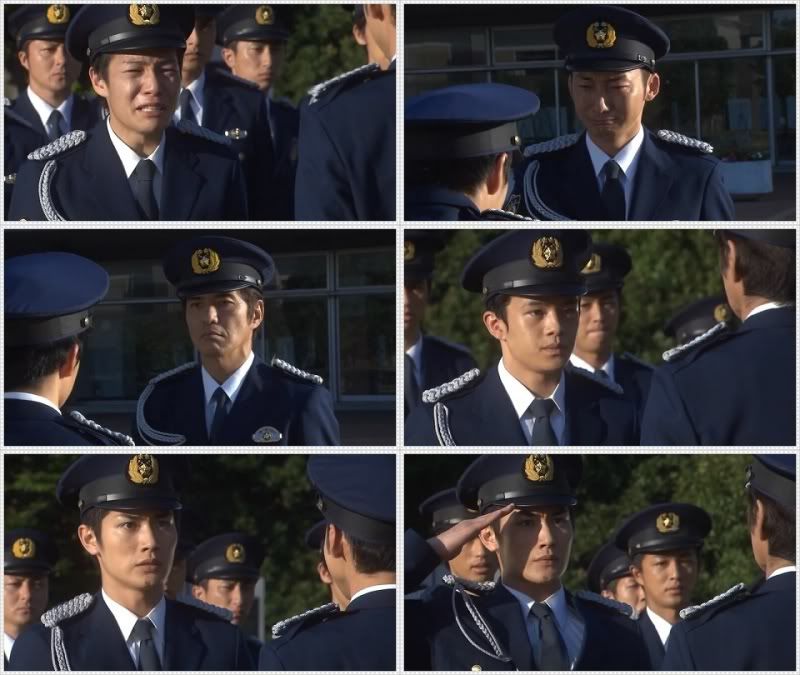 It's hilarious when everyone's all red eyes, but Tono's showing a very serious face. So Tono-ish...well at least, Miyata doesn't cry like a baby even though I half expected him to.
Overall thoughts:
Happy ending for all. Well, Tono lost his wife but that's for the best really. They can never get back with each other anyway since Natsumi's so attached to Anzai and with Anzai caught, I don't think she'll want to live either way. About Anzai, I don't really know what to say about him. He's got a dark past with police, and I understand why, but I don't pity him one bit. The way they portrayed him, I don't care about the character. The only one I really cared for is Tono basically. It's nice though to watch Minosawa change for the better after meeting Tono and that last statement she gives him..."You're the worst kyoukan" LOLz Tono happily thanks her for that.

Except for several episodes which I find a bit frustrating, especially those involving the immature students, the show's not that bad. Minosawa's character is rather annoying too in the beginning but towards the end, she's okay. I actually thought there might be some sparks between her and Tono, kinda disappointed no progress there. But it'd be very cliche if they did. So it's fine they keep it open-ended.
Overall rating: 7.5/10
- too bad Miyata's character isn't memorable and Tono's the only one saving the show