Sabashima becomes a celebrity after giving precious life lessons to school kids with his self-made motto "Gans dong Zu-dong" . Say what? LMAO…I find it hard to believe that the teachers are actually SERIOUSLY IMPRESSED by that motto? What the hell does it mean anyway? Gosh, that is shocking. Though I don't think a senseless motto made up of random words will change anybody's life anytime soon, I do think his method of delivering advice to the students more creative than most of the teachers I've seen or met (in real life, not drama because you can practically have a gangster-turned-teacher scenario which is a far fetch from reality).

But if we're talking about creativity...be sure you read till the end of the post. Coz THAT my friend, is what I call CREATIVITY. The most WTF moments ever in the show that got me ROFL and having tears in my eyes.

First to recap the episode, Sabashima meets his old classmate by chance at the same school who now is a teacher. He recalls in the past when he stole her money and never returned it. The girl however believed that he wasn't that low of a person not to admit if he did do it.
Say cheeeseeee...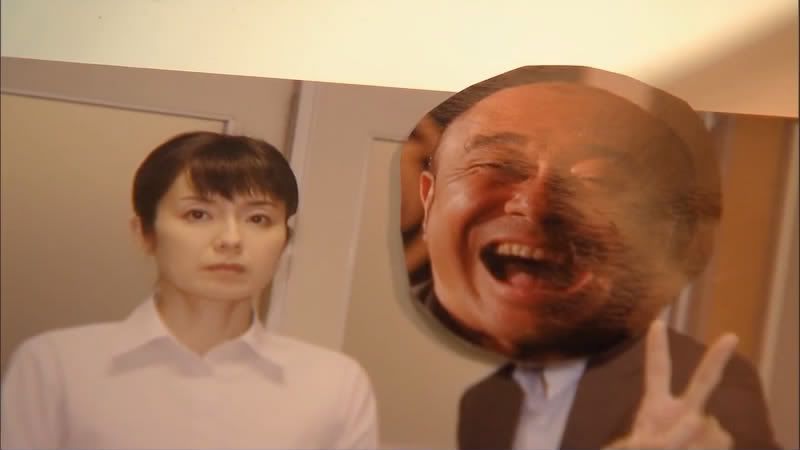 Wait, THIS is Sabashima lol
On the other hand, Shirota meets his crush too. A clerk who works at the pet shop he frequents.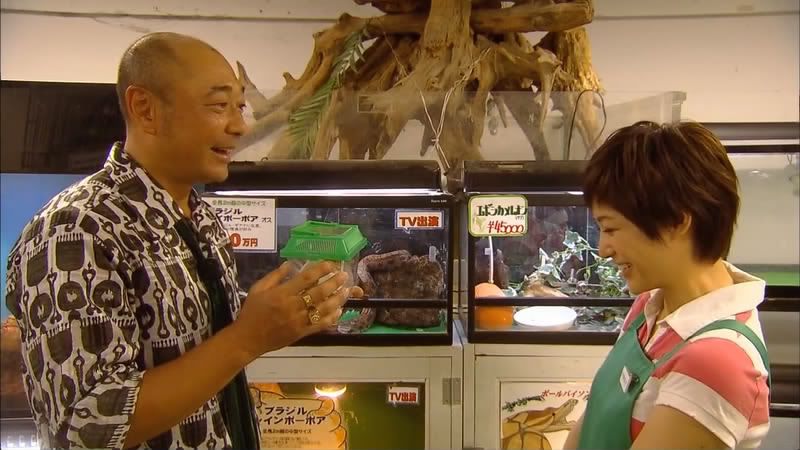 Only this time, he's still trapped in Sabashima's body and can't confess as he wishes. But that didn't stop him from showing a tiny tantrum about it as he flails his scarf around and whines like a baby. lolz
The alternate reality would be...like this
Ayumi fears reptiles but tries to get used to the gecko's stay so as to please Sabashima. Ayumi's definitely my fav female character in the show. IF Shirota is not touched by that, I don't know what will.
However this also means that Shirota has a responsibility to bear for as long as he's inside Sabashima's body. He can't love someone else as he likes, or rather, he can't show it but to suppress it.
The other side story of the episode is a case they are working on. The boy has low self-esteem and inferiority complex after finding out that the girls in his class rank the boys. Out of 100 points, he gets only 39. Second lowest in the rank. Well, all I gotta say is, Hey at least you're not the last though! So cheer up! Ahhh such innocent days in school.
What a FORCED coincidence that ALL THREE WOMEN/GIRL are leaving on the SAME DAY?! I am not buying it. So then we have all 3 of them leaving, shouldn't the guys chase after them? But damn am I glad that they decide to defy the cliches in most dramas. Instead of running, they are smart to use a car. not just any car, mind you. A SPORTS CAR. If you gotta do it, then do it in style right?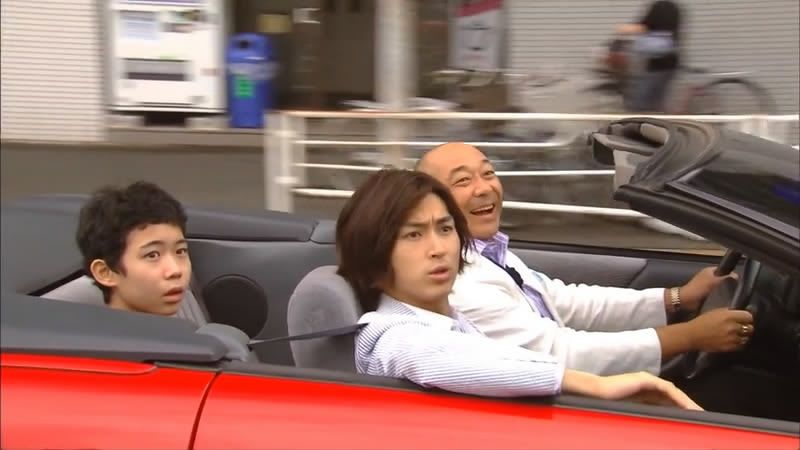 and that's exactly what they did
Then come the WTF scenes that I mentioned earlier. Be prepared for these, you fellow Matsuda Shota fans...because this will be forever etched in your memories.
Does this change the way you look at him from now on? I hope not...
But nothing, NOTHING prepared me for this ONE. THIS OWNS EVERYTHING ELSE
Imagine an old guy dressing all smart, and bald and driving a sports car...confessing to another younger girl on the bus they are chasing after.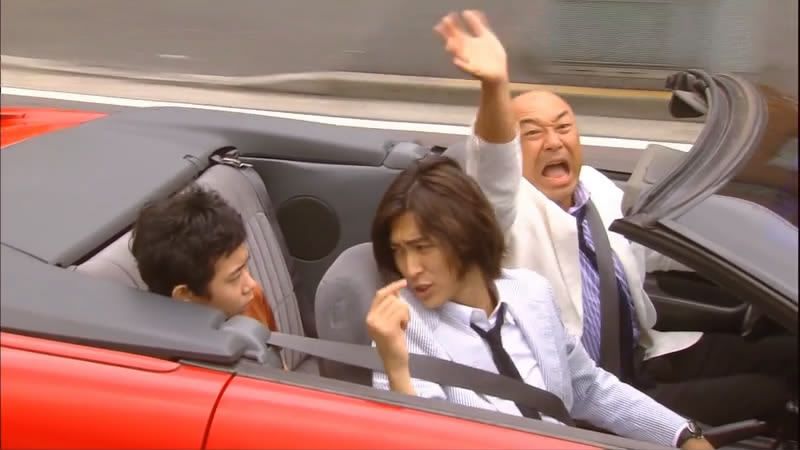 Poor girl must be traumatized for life...
She must be thinking "kimooiiii!!!~"
I didn't post the boy's confession because it's really nothing to shout about compared to both of them. Totally pale in comparison but alas he gets back the confidence to attend school again.
AWESOME episode. This show has never failed to impress me from the beginning till now. It's a great comedy and I hope more people will come to like it like I do. Of course, there are values inserted in each case and episode, but that aside, both Sabashima and Shirota manage to keep things hilarious.
Rating: 9.5/10 - one of the highest I've ever given to dramas so far.