Following last week's episode, the sisters' mother met a sudden death and there was a short dispute between them and Grandpa over who should be the Chief Mourner. Fujiko, as the eldest daughter requested to be the Chief but Grandpa opposed, so in the end, he won. Just out of curiosity, why didn't the sisters' father be the Chief Mourner anyway? He's the husband and I thought normally, he'd be the one responsible. But considering the events earlier over the quarrel between them both, I can understand.
There was this scene where they all sat together and ate shabu-shabu because they had to stay all night long to ensure the candles were lighted. This was so their mother's soul would not be lost. This particular scene somehow touched my heart because it's one of those rare events whereby all of them sit down together and had a nice and honest talk, reflecting on the past, especially the part where they mentioned their mother had always prepared different kinds of meat for them according to their favs, but she herself ate their leftovers. So it was like, the sisters never knew what type of meat their own mother liked.
I find this very true indeed. For example, my mother cooks for us and she never actually cook her favorite food or anything, instead, she'd always asked what we'd like to eat and etc...I think mothers are like that. They are content seeing their family eat their fav food happily.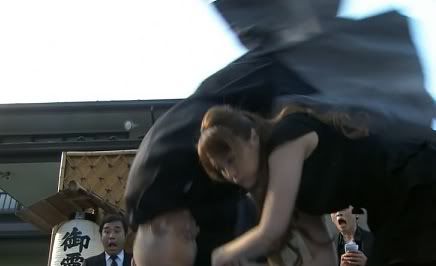 Epic attack on Grandpa!
How can he survive that?!
Morning came and Takemi snatched the plague away from Grandpa by force. And when Grandpa resisted, that's the kind of result you get from her.
Lol at the shock on their faces watching their Grandpa getting tossed upside down!
The episode then turns towards Ume's story. Finally, she's getting more screen time and her own story arc. After the senior called her artwork as too self-centered and that she think too much, she got mad and to top it all, she took off with another senior.
Takemi then searched frantically for Ume's whereabouts after she got a tip from the photographer who saw Ume being dragged away at the university. Takemi called for Fujiko's help too, and there was this brief part when Fujiko contemplated between her job and Ume, I was like "Do you even have to THINK TWICE? Ume's your little sister for god's sake, and your job can change anytime, but not your sister". But luckily, Takemi kicked some sense into her and pushed her to act.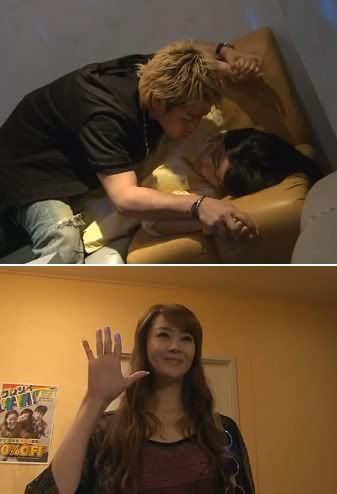 Note: Stay away from her once she makes this sign. Else you're gonna end up in hospital.
Thoughts:
It's a good episode. Sakurako didn't get much screen time at all, but it's definitely time for Ume's plot to develop. It was like she had been ignored in the last 3 episodes and then the revelation of how she felt, through the blog she wrote. Of course, Takemi had always been the heroin in solving their family's problems but I'm curious of her own problems. Maybe we'll get to see more soon. The episode's a perfect one to show their grief and how they live on, trying to look after each other. Finally, rating: 8/10