In the previous episode, the 'fired' Wakaba from her babysitter job got drunk out of depression, and somehow kissed Shota just to prove to him that kissing is just a touching of skin surfaces. LOL at that theory. So she kissed him by force the night before, and the new episode began with her waking up to find herself still dressed in her formal clothes. She tried desperately to recall what happened. It was really funny how she thought Shota might have stolen her money and stuffs, as she quickly searched through her purse to make sure there was the exact amount left, her stamp and account book too. It was like, despite worrying what happened last night, she was more worried about her money!
But anyways, she remembered how she was fired. So she quickly showed up at work. Her boss's daughter had come to like her, so the boss decided not to fire her.
When her boss buried her with numerous jobs, she took them all calmly, with only one request. A bike to move around. The scenes below were hilarious too....as she traveled around the city, and all she noticed was either people kissing, or kids or even animals kissing.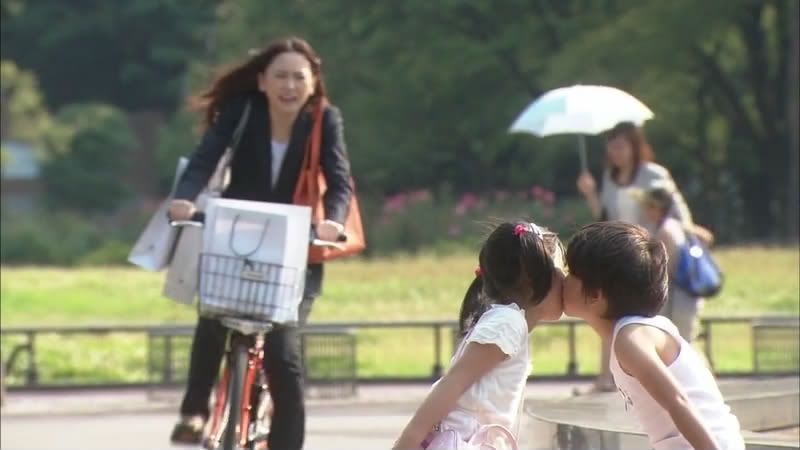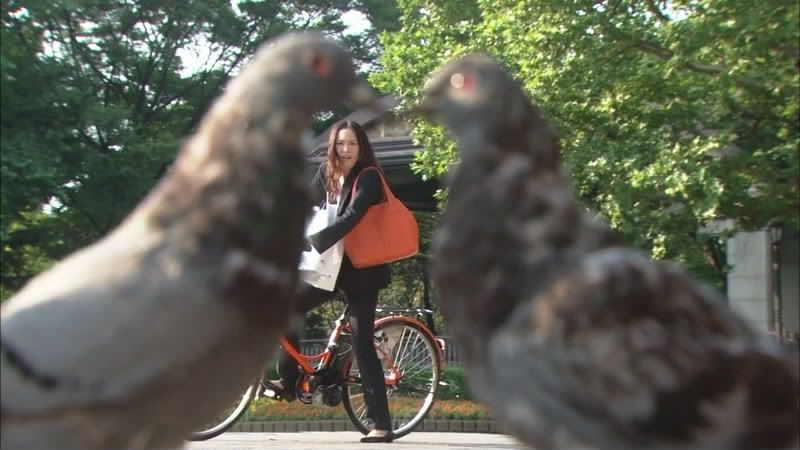 As a member of the SAHD, or babysitter/lawyer, it is her turn this time to take care of the children. All five of them. So she brought them back to her small and un-flattering room, it's not even a house. The children of course made a huge fuss about it, complaining this and that.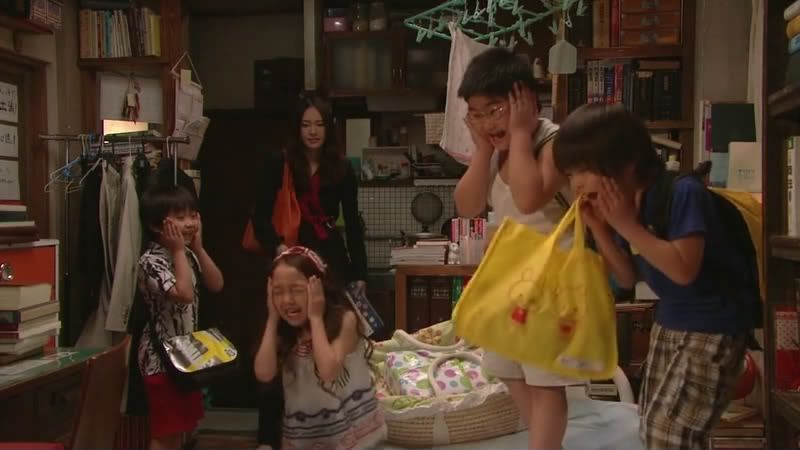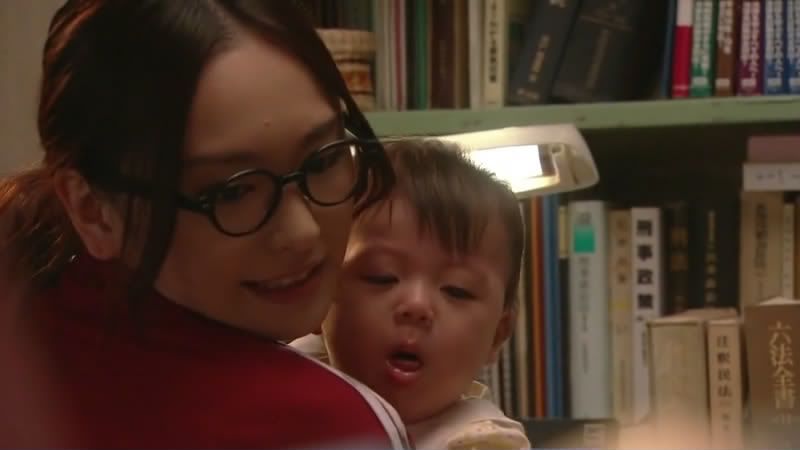 Are you sure you're holding the baby right? He/she's choking!!!
Besides this, she also had to prepare homemade lunch for Hinata to bring to school. Being too focused in studying, she never had the time to learn cooking, so in the end, she asked Shota for help.
omg so cute!!!
but after spending the whole night making the ingredients, her lawyer work forced her to stop putting them together, and only do so after the meeting. She did however managed to finish on time, but as she cycled in a rush to the park where the kids were eating, she fell and her bento was crushed too.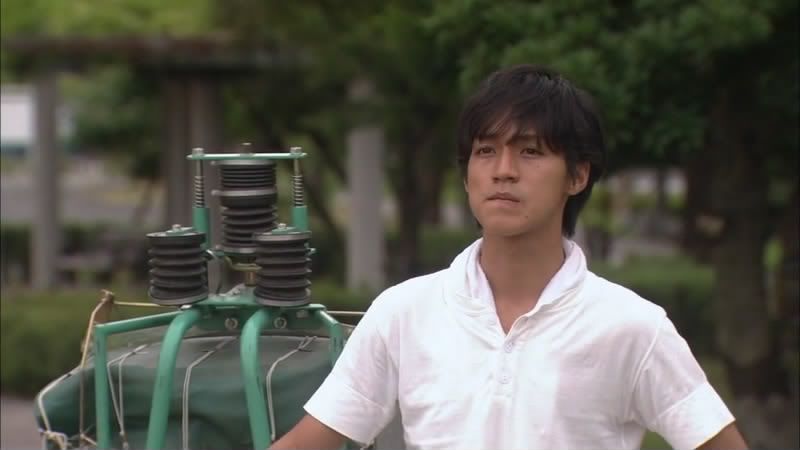 Shota, saw this happened and decided to help her put together the bento, even though they were dirty, but he wanted to let Hinata know that Wakaba did put in effort to make her a homemade bento. For the first time, Hinata thanked Wakaba. Wakaba was touched by Shota's actions and decided to return him the bento container and most probably thanked him, but when she got there, she saw her colleague who wanted to date Shota, and the whole SAHD gang was there too.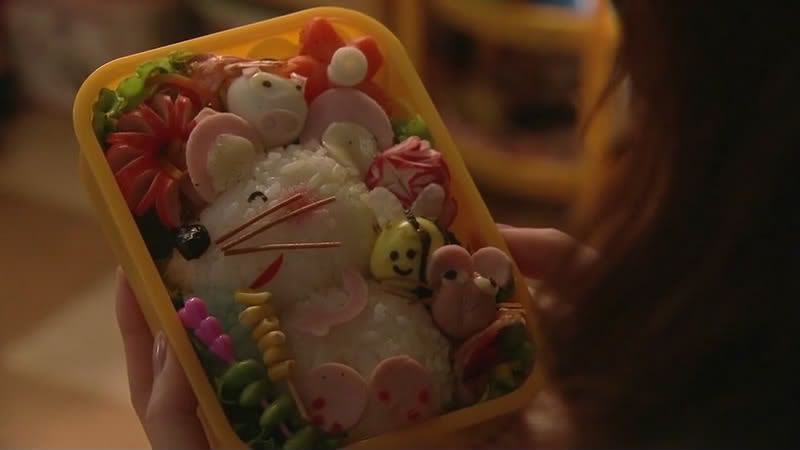 Instead of thanking Shota, her pride and ego came back. She then said something like, "what if the kid eats the dirty food by mistake and then it'll lead to a bigger problem" etc...scolding him off. The daddy gang then teamed up to defend Shota and brought the kiss issue up again. Before this, Shota lied to Wakaba that nothing happened the other night, which of course Wakaba trusted. But after one of the daddies showed a photo proof of her initiating the kiss, she got shocked thinking it was impossible of her to do such a thing.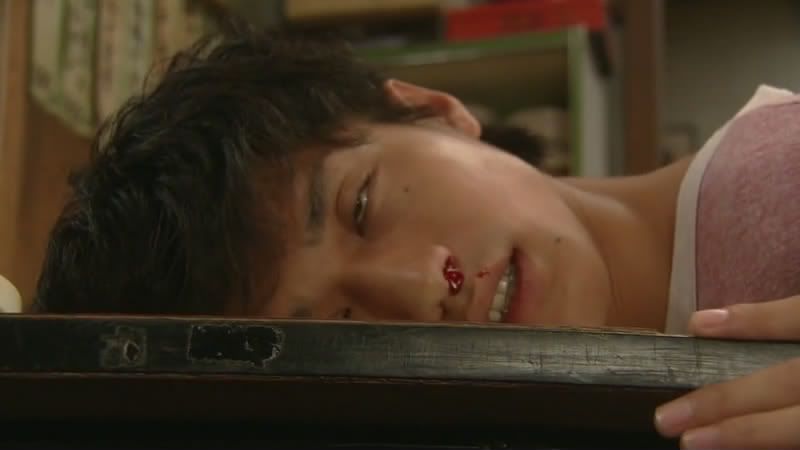 Poor Shota!!!~
This episode is so enjoyable! So much funny scenes too and some touching moments. great episode. Highly recommended!