The story continues in this 2nd episode where Hiroki couldn't get to Misaki's brother who killed his little sister at the bridge.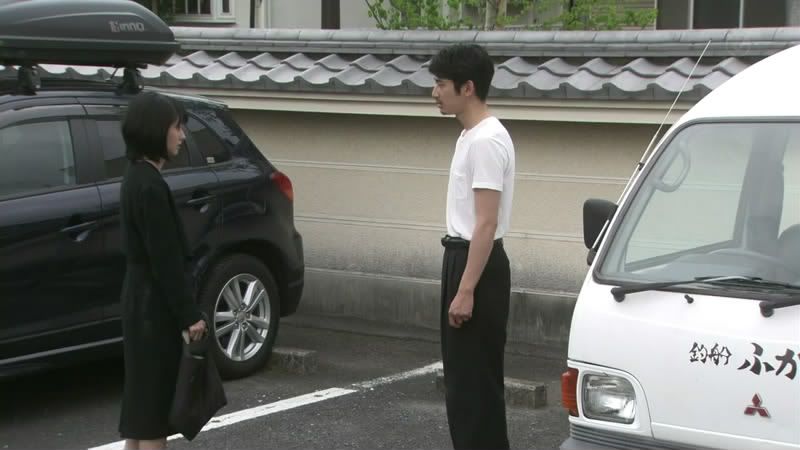 Misaki helplessly kept on apologizing for what her brother did. However, it was evident that she still believed he was innocent as we saw in later scenes where she mentioned it to Hiroki.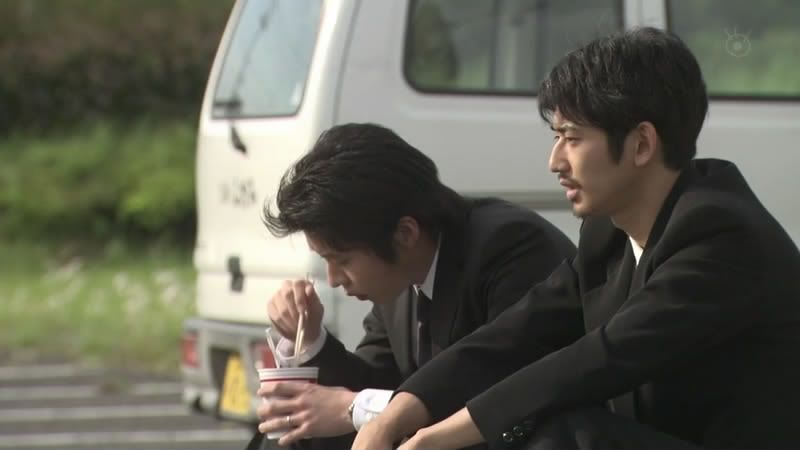 Despite the revelation on Misaki's true relationship with the his sister's murderer, Hiroki phoned her again. They met and at the same time, there was a young girl who was lost. Misaki couldn't help but wonder if it was her brother, doing the same thing again, after all these years. She then suggested that they pay a visit to the mountain lake where Hiroki's sister was found.
At the jungle, they both shared their memories. Misaki went on about how her brother was very loving and always played with her. At some point, Hiroki suddenly raged when Misaki finally told him how it may have been a false accusation, as she couldn't believe her brother did such a terrible thing.
I like this scene below, Misaki fell down and Hiroki offered his hand to pull her up but she hesitated. That hesitation was all we need to know the barrier between these two people.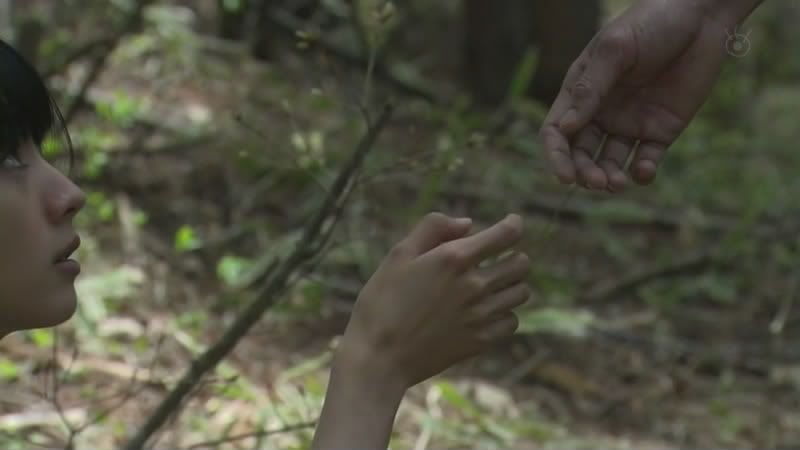 Hiroki then told her how his family had suffered all this time. How they never celebrated any events, not even birthdays, or any festivals. He then said maybe Misaki should experience it a little bit how his sister had suffered.
Yeah, he tried to strangle her. Of course, he didn't kill her. It wasn't in his intention or blood to do so. He was too kind lol. But I've got to say though, the scene where he blurted everything out was amazing. Eita has moved up a notch in my list of fav actors.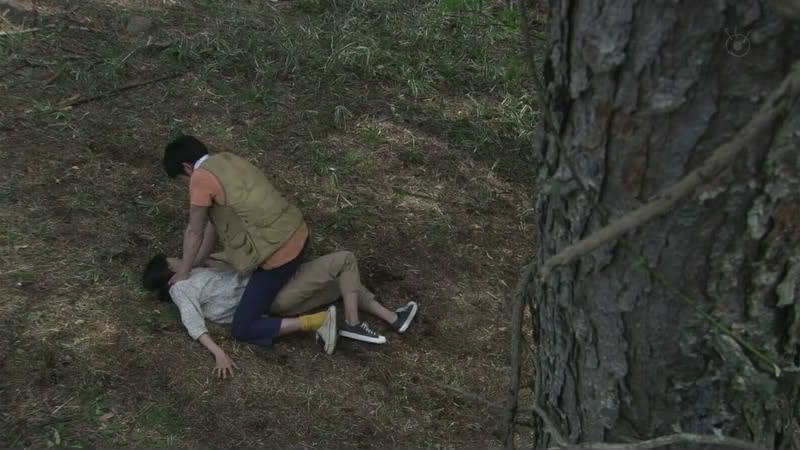 I think this episode is definitely meant to be Misaki's. There were various flashbacks to when she was still young, before anything happened to after the her brother was convicted. The flashbacks were executed perfectly. They showed her side of the story. This scene below was when she wandered to the lake and saw those poppy flowers. She then realized that her brother might have really killed Hiroki's sister after all. She said that when they were little, they would plant poppy flowers on the grave of the kittens they tried to save but failed.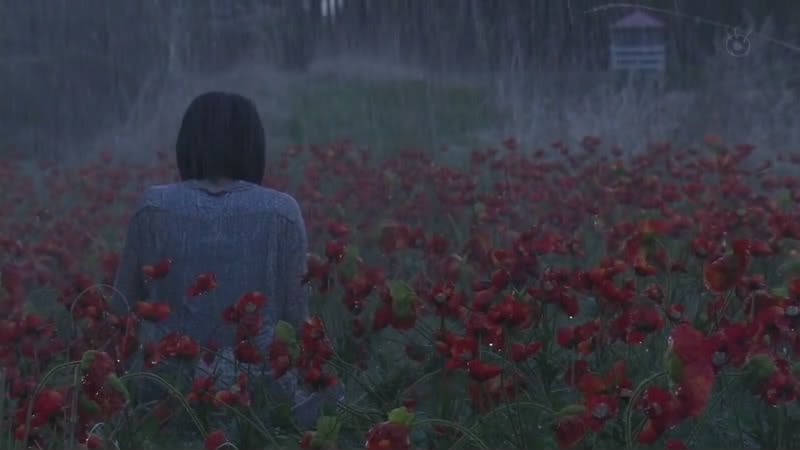 Heartbreaking. This was accompanied by the flashbacks of Misaki's parents reading the letter Misaki tried to write to her brother, but was sent back. In there, she lied to the brother how everybody's life is good, how she'd found a job, even went to the length of taking a fake photo of her wearing formal suits. Her undying love for her brother! That was touching! There is no wrong or right in this matter. You can't blame her for having good memories with her brother, because obviously she did have them. But she later revealed to Hiroki that her brother had once tried to kill her. (There was a brief flashback, but not enough to fully understand why).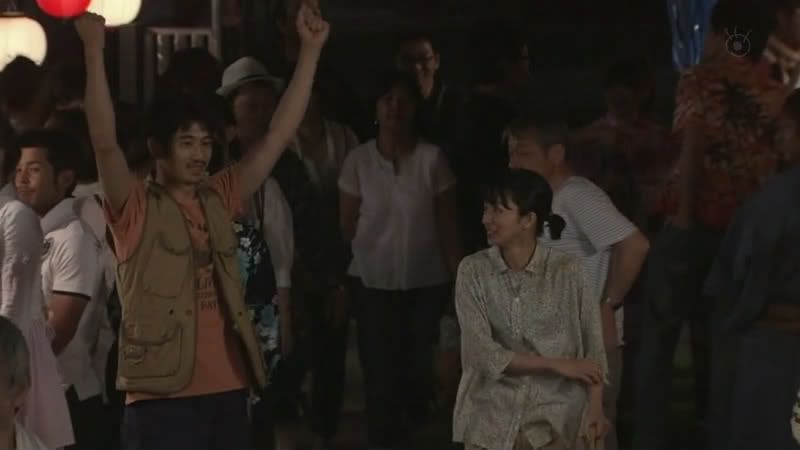 After Hiroki and Misaki made up, they went to visit a nearby festival. I can't help but love their interaction. There's this unspoken silence, awkwardness between them! And you know why they acted this way, but they also have something in common.
This episode is great. I like how it's not one-sided. I like the direction. A lot of suspense. We still don't know for sure whether Misaki's brother was the true murderer, but my instincts think so. Despite his good attitude back then as how Misaki remembered it, I think he just snapped suddenly and decided to kill someone, maybe out of adrenaline rush?
But let's just go back to how gooooooood this episode was! This is definitely the drama to watch this season. Hands down. These two characters are so intriguing and interesting, I like their awkwardness.