Okay, I changed my mind. I prefer the nervous Takei guy who's actually a policeman lolz...his boating experience with Emi is just too epic to ignore! I totally love them both to bits in this episode.At first I thought that he's a bit annoying for pestering Emi with mails and phone calls a bit too much for a stranger who just met at some random event. I can totally understand when Emi needs like a minute to crack her mind who was the guy when he first left his contact details. Talk about desperation. But the guy's just expressing his affection towards her, a little too much maybe, but at least his conduct isn't as bad as Mako's co-worker (which I will discuss later).
So the boat = couple thingy that Saki mentioned the night before as a warning for Emi happens but I really don't think the guy has other things on mind other than trying to make use of the time. Well, you're at a lake, if you're not strolling or eating, why not try boating??? Right? Emi's expression when he's slowly and carefully rowing (okay, maybe a bit too slow for a guy), until she has to offer taking over the rowing, totally cracks me up! Emi...gal, you should never EVER challenge or question a manly guy's ego like this! haha... though I think I'd actually think of doing the same as Emi if I were her in similar situation xDD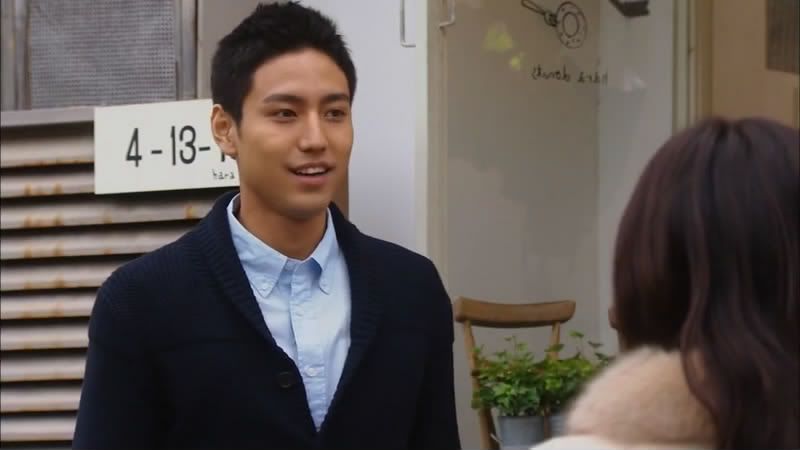 Sweet guy he is!
One thing to avoid when you're out with another guy is definitely the guy you once had crush or worst, STILL has crush on. That's exactly what happens when Emi and Takei stumble into Yu and his gf. Frankly, I look forward to Emi and Takei's donuts experience because they are just too cute with their awkwardness. Yu's expression when they part ways as he turns back to see Emi and Takei only proves 2 things. One, he can't believe Emi actually finds herself a partner either this fast or ever at all. Second, he still likes her.
Then comes Mako's story. The co-worker still pursues her without even trying to hide it. However, his advice to her is true! A guy like her boss isn't the kind of guy you should even think of. The only thing that kind of turns me off though is the last part when Mako finally hears from the boss himself that he likes Momoko (her younger sister) and wishes to date her etc...leaving Mako in tears, and what a coincidence (MAJOR EYEROLL HERE) that the said co-worker is nearby to comfort her. Stalker much?
And the expected kiss for the damsel in distress, followed by the bed scene (another eyeroll). Forget the kiss, the bed scene is totally going to happen anyway, girl can't stay a virgin forever, but isn't that a bit too rushed? The guy's good enough though to actually ask whether it's okay to proceed. But I don't think Mako's actually ready for it, she's just running away from her depression. Doing this to try and forget her old flame is not exactly the right way to do it though. Well, as much as I don't agree with her action, it's a change for her character. Whether or not the relationship will last is another different story though. Because looks like co-worker has some excessive controlling issues going on ...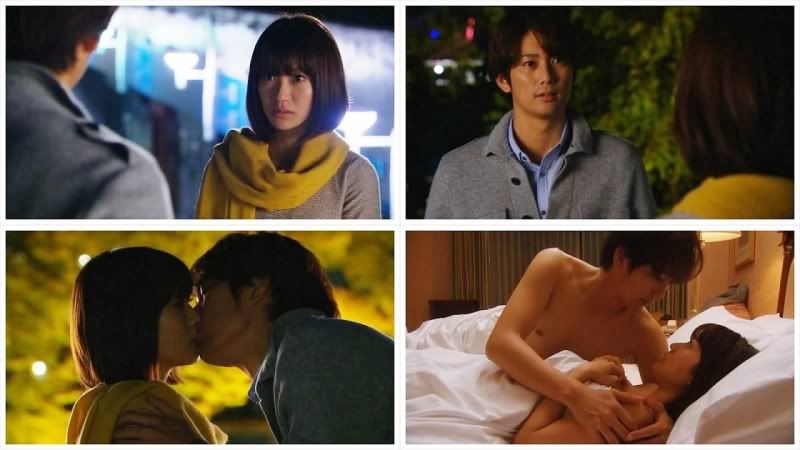 As for the married couple. Shiraishi seems to have made up his mind to move forward with what's in front of him at the moment. That's a beautiful wife and the plan to have a family.
And Saki seems to have deepen her friendship with Shiraishi's wife. Time will only tell when Saki or the wife finds out each other's identity. I'm looking forward to that which will definitely occur. There's so little scene of Saki and Shiraishi in this episode, I feel something major is missing in this particular episode. But Emi-Takei scenes kinda make up for that. Writers, onegai! Make more Saki-Shiraishi scenes soon and definitely a donut outing for Emi-Takei too!
Rating: 9/10 - for the great music featured and BOAT!
Sorry but I just can't help but think I should comment about this particular scene. I do painting at home quite often with my dad back at home and I love it! Except the part when I get paints on my face/skin or clothes. So umm...when I saw Emi paint over the peeling part I really feel like telling her to first scrape off the peeled parts before painting it. Yeah, it's so trivial xD (I can't believe I actually wrote 4 lines of these just to talk about this)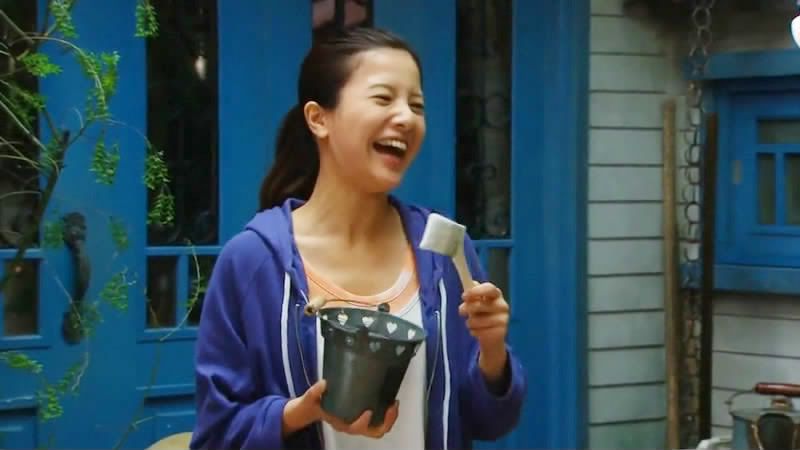 The girls having fun smearing paints all over each other...
Well from what we used last time, the wood/metal paint....they don't come off easily and totally troublesome once they get on clothes. I'm wondering if the girls know that before they actually smear paints on faces and those beautiful expensive looking clothes.
And the HAIR! Well, the paint don't look like the concentrated type. They look more like the ones you paint walls (weird) but great episode though!
Apple appreciation time! I love apples by the way. My favorite fruit actually.