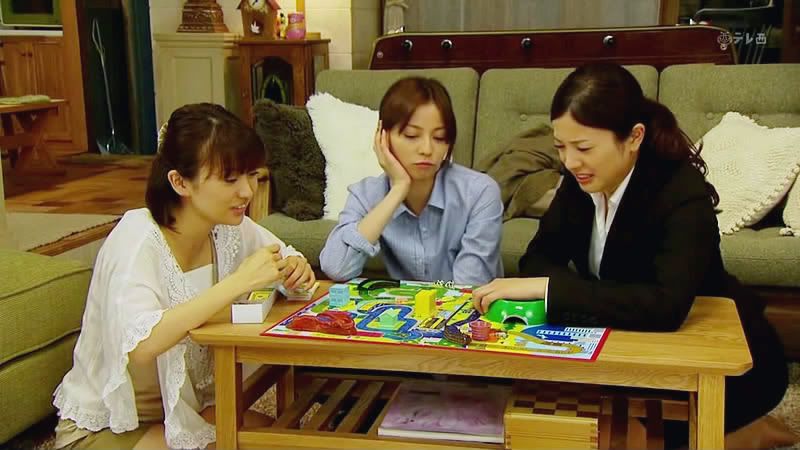 The game of fate? That looks real interesting! So the episode advances in a just the right pace, albeit lack of action perhaps?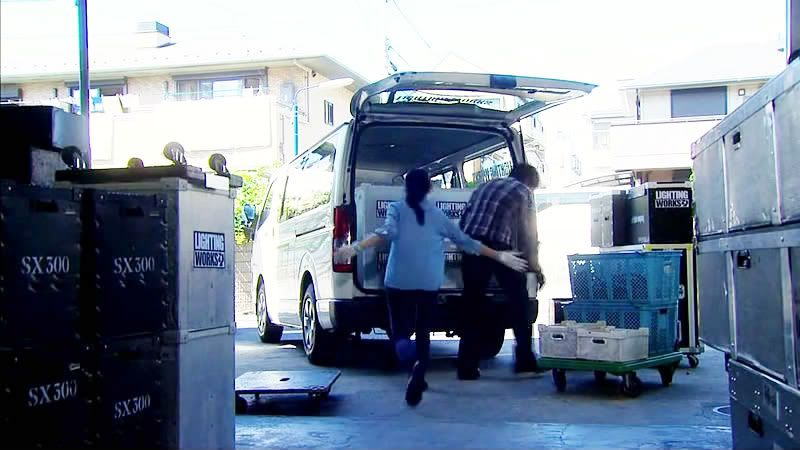 Emi's butt slapping habit hasn't failed to amuse me for some reason.
She's heartbroken having been told by her former love interest that he's getting married, to one of her clients and all the more saddening is that fact that he forgotten about her birthday. But nothing's all bright and beautiful for the couple. As soon as we get to know they're planning on getting hitched, the guy seems moody and it appears that he's not really in a rush to meet the partner's parents, which got me bewildered. So whose idea is it to get married in the first place? If it's the guy, then he should be wasting no time to meet his future in-laws now right? It's pretty obvious then from his laments to Emi (the only person he can talk about anything with), that the girl's rather persistent.
From the ending scene, Emi sees the girl in the middle of a marriage interview or 'omiyai'. So what's a girl already planning on marrying her boyfriend be doing an omiyai with a totally different guy? Will Emi have a chance with her love interest afterall?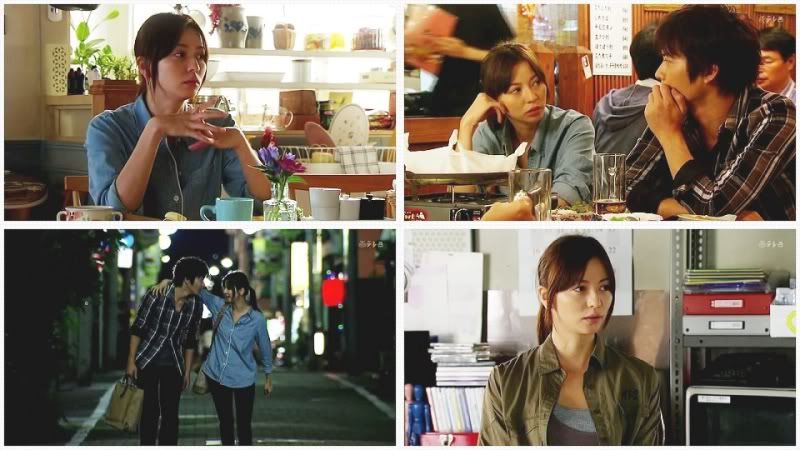 As for out too-serious girl, Mako, I really don't get the whole virgin issue with the boss. That is just a bit too far-fetched. So she likes her boss, who seems to have a problem with her being too serious. But she's not giving up and believe that if she just becomes his friend for now, the friendship will somehow bloom into something else - a theory Saki laughed upon for she never believed that a guy and girl who are friends can advance into something deeper. I can't sympathize with Mako and her issues. But I do salute her for her perseverance, despite how many times the guy rejects her.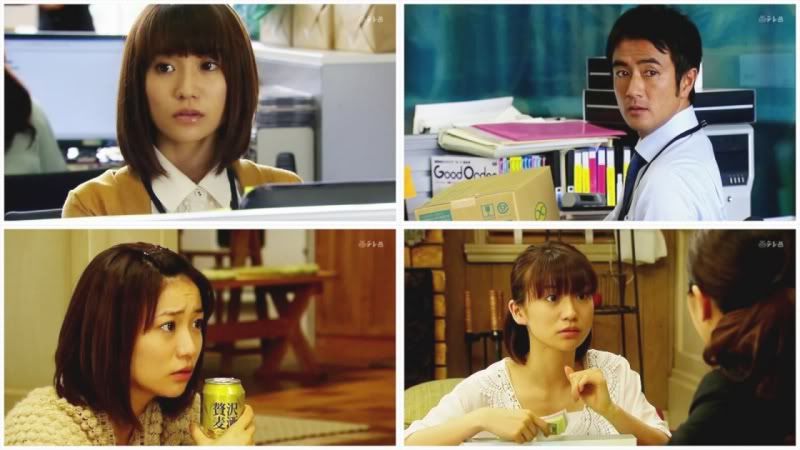 The only married couple in the show. What can I say about them? I won't even know that they're married to each other if not for Emi's revelation in the first episode. These two are more like co-workers than husband and wife. That's the main problem with their relationship. While we see the wife trying to mend things by suggesting to build a house (the hubby points out that she's the one who wants to be independent before, which probably causes them to be distant), the hubby shrugs off the idea. So obvious that he doesn't even love the woman in front of his eyes any longer.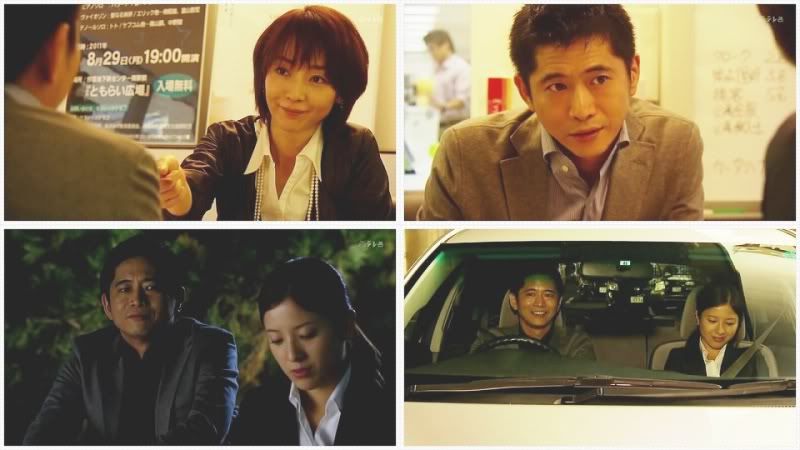 Well, who would when there's someone much younger and attractive in front of him! And here's where Saki enters. Saki begins to realize some truth in Mako's words about love blooming from friendship and reflects upon her own pasts. Are we going to see a more mature and responsible Saki from now on? Didn't think Mako actually can change her...so, because of a chance meeting and a fountain pen, Saki finds herself attracted to a middle aged guy, the hubby. I'm pretty sure she still doesn't know that he's married. The guy finds Saki very amusing too. I like these two, I'm all for them really. Though their age don't match, there's more chemistry between them than between the guy and his wife.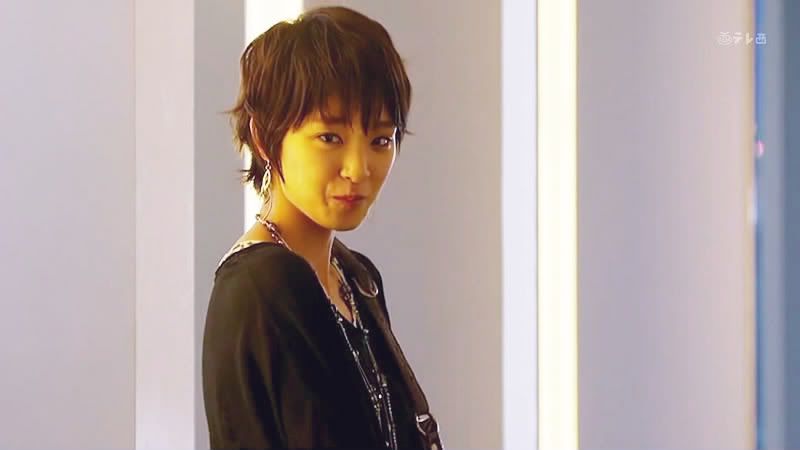 Not forgetting, the minor character who might appear to be the opponent of Mako in the future. Mako's younger sister is played by Gouriki Ayame, who appears in this episode briefly but enough to make an impression. Seems like she's taken some interest in Mako's crush at company. Are they really sisters?! One is too serious, the other playful? Uhhmmmm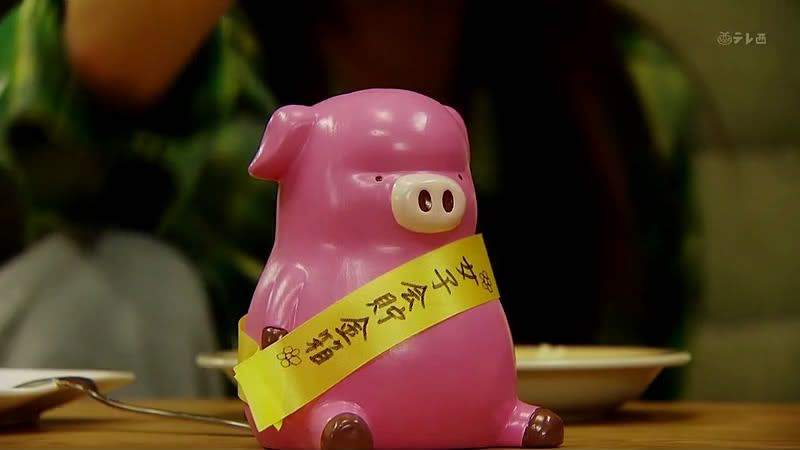 Sorry, couldn't resist to snap this little piggy bank the girls use.
Thoughts:
I'm curious to see how Saki and Shiraishi (the hubby) advances from here on. Because in the next episode, looks like the wife will somehow make friends with the girls. Some kind of conflict will occur for sure. As for Mako, I really can't care less about her and the boss, for all I care, the younger sister can have him.
Rating: 8.5/10