Abe Hiroshi (Shima Yusaku) stars in this Special Drama as a former prisoner who just comes out and has been trying to get to Yagirishi, his hometown island near Hokkaido. However, he gets stranded in Haboro, the nearby town and meets two other people by chance. Akemi (Horikita Maki) is the daughter whose mother owns a local karaoke bar while Kinya (Hamada Gaku) comes from Tokyo trying to find part-time job in Hokkaido.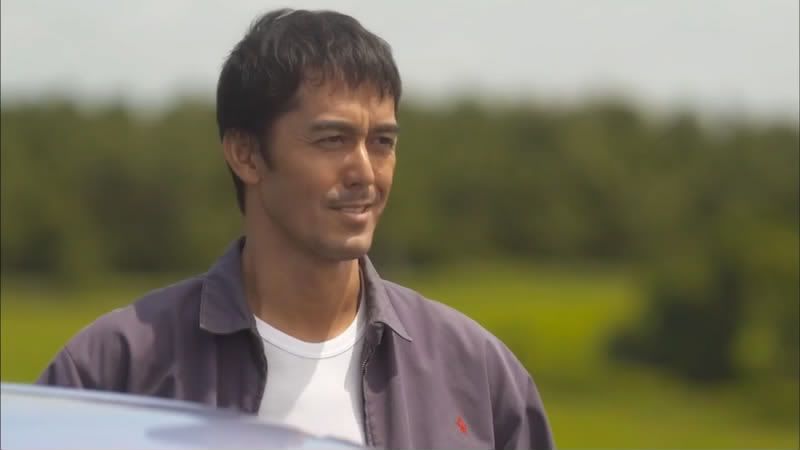 Yusaku is a socially awkward person (the kind of character I find Abe really good acting as), quiet and somehow Kinya makes quick friends with him when he meets him overlooking at Yagirishi one day. Kinya is someone easily filled with rapture, loud, definitely hilarious and he falls in love with Akemi the first time they meet. Kinya then tries to make advances to her every chance he has but is turned down immediately as Akemi finds him annoying. Well, at first, I myself find him stepping over the line a bit with his constant pestering but it doesn't take long for that change over the course of the movie. Kinya turns out to be a rather funny guy who speaks his mind out loud and clear, straightforward but will also apologize once he realizes his mistakes, as pointed out by Yusaku everytime he upsets Akemi.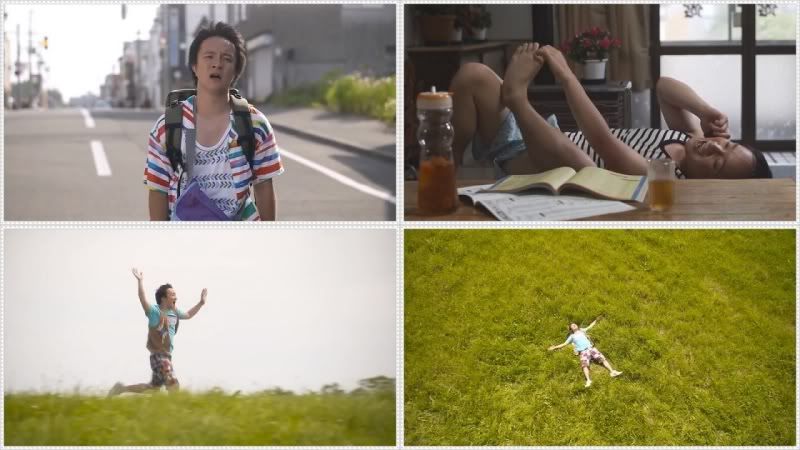 Yusaku is then revealed to have murdered someone by accident and serves 7 years for it when the inn owner files a police report that he has been acting suspicious. This surprises both Akemi and Kinya as they never thought Yusaku would've done something hideous like that from the time they spend together. After returning from the police station, they ask him what happened 7 years ago.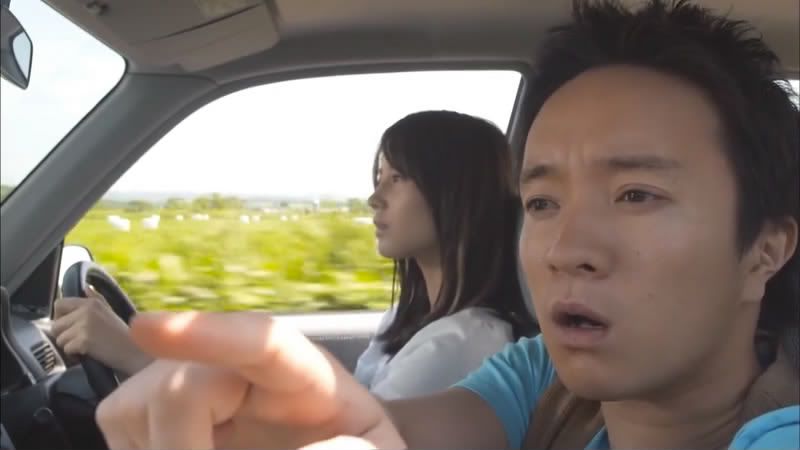 I'm not gonna spoil this any further so I'm moving forward with the acting performance and overall thoughts about this Special. First of all, Abe Hiroshi is one talented actor and I've always enjoyed his works, be it movies or dramas, he always nail it without much flaw. His character here reminds me of his previous show, where he also acted as a former prisoner, Shiroi Haru. Which is why, this character is such an easy one for him. Akemi has nothing much to do actually as compared to the other two, so easy task for Maki-chan. She looks pretty in here too. Last but not least, Hamada is amazing in his role lolz…it seems he has no problem at all being loud and blurts whatever comes to mind only to realize it a second later he utters something inappropriate.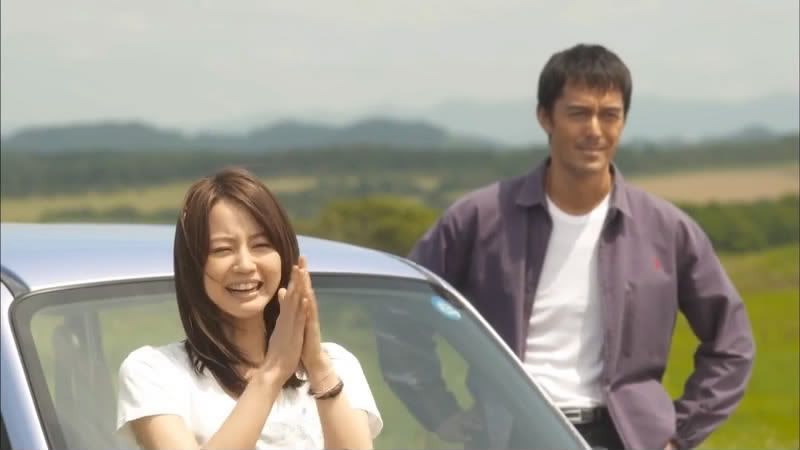 The chemistry between these three characters are quite good too. Lovely to see how 3 total strangers become so close after a brief encounter. As for the plot, the later half of the show focuses on Yusaku's past as he tells Akemi and Kinya what happened. I keep wondering why the title has a Yellow Handkerchief in it as I find no connection UNTIL his story comes along. And then I thought it's such a touching tale towards the end. So, don't be confused with the title because it sure has a deep symbolic meaning behind. This is exactly why I love some Japanese shows, they usually have these symbolic items that carries the heart of the stories. Well, overall…it's a light and heart-warming Special and they make a great 3 people combination. Maybe it was a little draggy during the flashback but with that kind of ending, it was worth it xDD
Rating:8/10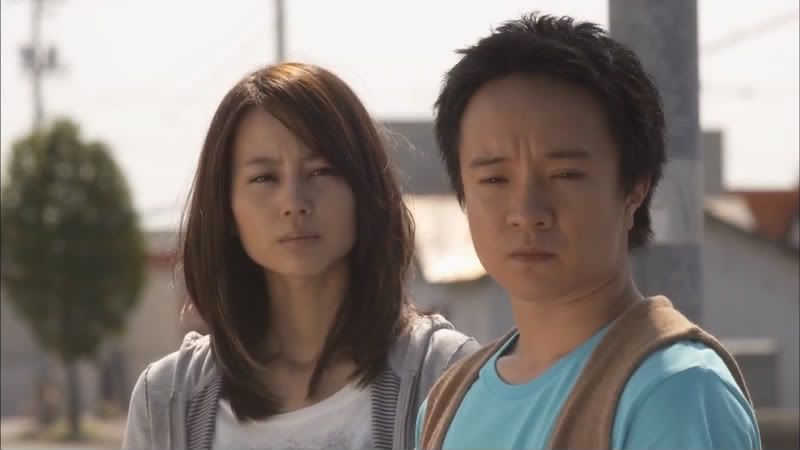 The bickering among these two are fun to watch though I feel sorry for Akemi for being pestered a lot but it's all good!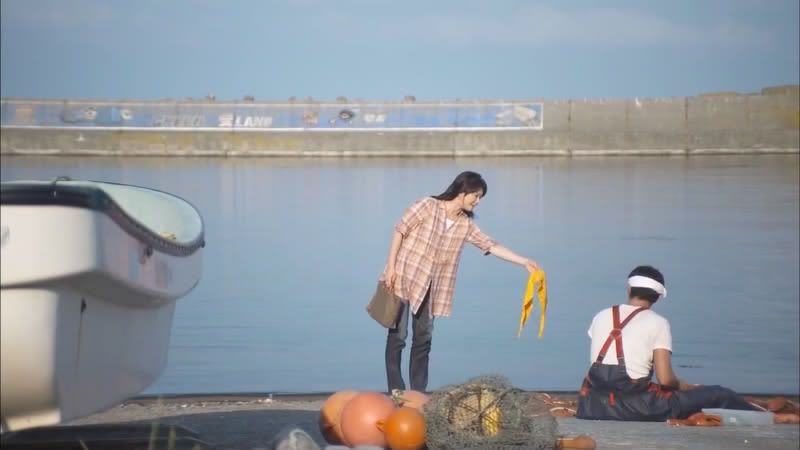 The significance of the yellow handkerchief begins here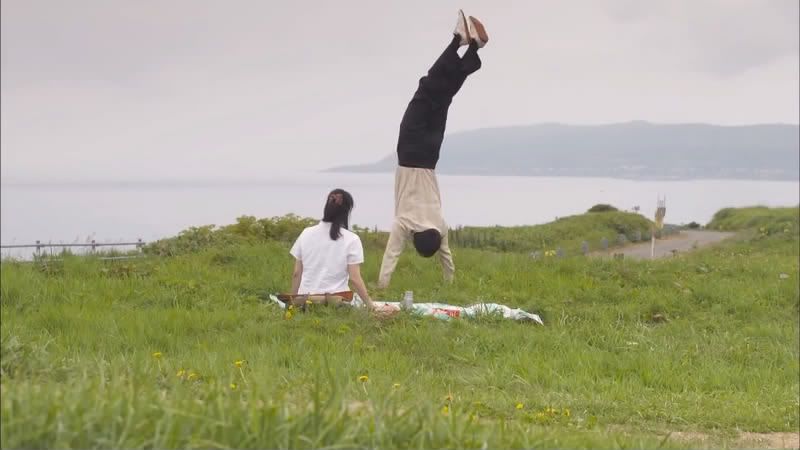 O_O Abe-san can do that?