The episode focuses on Taichi's eternal battle with Wataya in which Chihaya interrupts into but we'll go into that in a little while. Basically nothing much happens except we get to see how Chihaya shows her support a lot, and let me say that again, A LOT in this episode that if I were Taichi, who has been good friends with her for time longer than she knows Wataya, I think a bit of jealousy is allowed on Taichi's part, so I find myself not blaming him too much, instead I understand his feelings.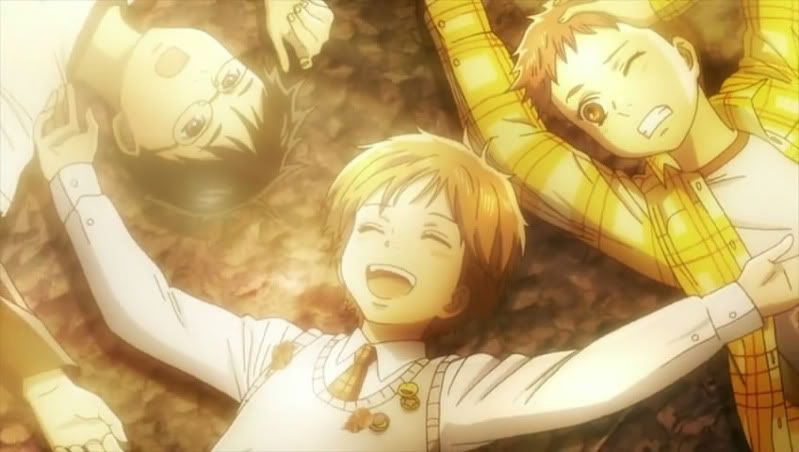 I mean, honestly, how will you feel if someone new coming to the school and the next day, you find your best friend rooting for him, only has good things to say to him, while the rest of the school shy away from that person because he's a weirdo and your best friend is siding that person and quarreled with you because of him? Having seen that, Taichi gets a little sympathy from me, but not entirely. Stealing Taichi's glasses is a bit too much. If you're gonna fight like a man, then do it fair and square. Of course, he's got all to lose, having his mother taping the whole event, hoping her top student son would win. But going as far to cheap tricks like that, you're just gonna end up regretting even if you win.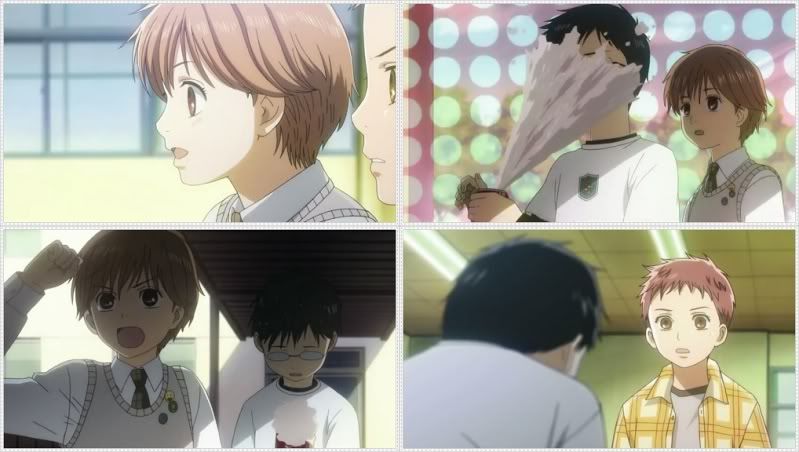 I totally didn't expect Chihaya to interrupt the match! Just out of the blue, the girl pushes Wataya away, poor guy gets thrown on the side lolz...and requests to take over from him using the excuse that Wataya doesn't have his glasses. So great, Taichi...now you're going against your best friend. That'd be 100 times more humiliating if you lose to a girl xD But Chihaya's method and ultimately her winning strategy isn't something to be entirely proud of either. She basically focuses on where Taichi is looking at when the poem is read, coz she only remembers half of everything (unless she did work harder after her little match with Wataya before) and blatantly lunges towards that area - pushes the group of cards. She's just lucky because the rule says that as long as the correct card is out of the area, you win. Poor Taichi loses the game to Chihaya who's obviously weaker than him because of a trick like this. But serves him right for his evil deed before.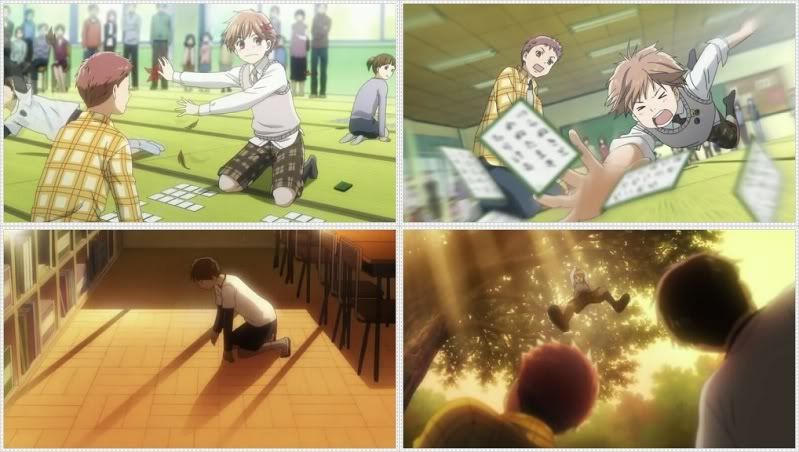 Chihaya wins and calls home excitedly to announce it to her family but it's clear that her family has more important issues to tackle - her sister's career as model. A scout is visiting their home when she calls so she gets very little attention, actually NONE at all when her sister tells her that karuta is boring and lame and hangs up on her. That evening, Taichi and Chihaya finds out that Wataya is able to imagine all the positions of the cards and practises invisibly. In the meantime, Chihaya vows to search Taichi's glasses for him and climbs trees because she thinks crows are attracted to shiny objects and may have brought it to their nests. In the end, Taichi returns Wataya's glasses and asks him not to tell Chihaya because he doesn't want her to hate him. Well, it's good to know that Taichi still cherishes his friendship over pride. The ending scene gives us signs that a great friendship shall bloom from now on.
I wonder if they're gonna continue with their childhood stories or move on to the present time. Either way, I like both. The young and adult versions. So that's fine if they still wanna linger around their childhood and giving us more character development. At least now we know why Chihaya is so fond of Karuta in the present time. It's as if she's found her first love lolz...
Rating: 8/10