Summary: Basically this episode focused on Rin's mother. We get to know a little but more on her, her work condition, ambition, as well as the orange haired guy who I thought was her boyfriend...but now, doubtful.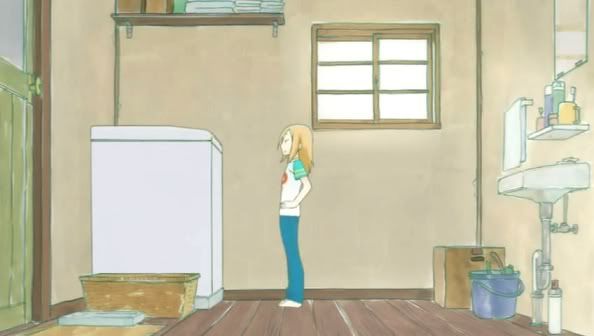 she's as tall as a washing machine!
Good to know their trees are growing well...
Masako had been working her ass off lately and her colleague, the guy I suspect to be her boyfriend, told her to take a break. She also contemplated whether or not to accept a new offer, adding to her current burden.
nice pose...Daikichi.
..
It's summer holiday so Daikichi proposed that they go visit Grandpa's grave. At the grave, Daikichi found that it had been cleaned, (it's a custom for Japanese to pour water over the grave stone) and there was also bellflowers in an
INK BOTTLE.
..
The ink bottle just popped out of nowhere...I mean, seriously? Ink bottle in replacement for a vase?
Daikichi managed to chase after Masako and the boyfriend, but Masako decided not to meet Rin in person. However, she couldn't resist taking a peep on her and realized how much Rin had grown. She also noticed how much she resembled Souichi (Grandpa).
Are we to be sure now that Rin IS AFTERALL Grandpa's daughter?
Watching Rin growing up to be such wonderful child, Masako decided not to give up on her current work/ambition. Later that day, Daikichi and Rin visited Grandpa's old house which now belongs to his uncle. They found that the bellflowers were all gone. Sad to see that...but at least they still have a new one growing in their own garden and they saved Rin's tree!
The night then ended with Daikichi celebrating Rin's birthday with a chocolate cake. Rating:7.5/10