The Encore kicks off with
Love Song
, one of my favs too. The curtain withdraws and she's wearing the short wig again. I find the song is quite a tough one to sing so it's interesting to see whether she can deliver it well. And it's amazing imo. She nails all the high notes without any problem at all, surprisingly but I think it has to do with her concentration for the track. She's not running around or dancing but basically stands in the middle of the stage and that way, she can focus herself on the song. It's quite flawless I have to admit.
She gives a solid performance of Love Song
Virgin Road, MOON
– Before she starts, she announces to the audience that she'll do a continuous acoustic set for these two ballads. For both songs, I find she can't really sing the lower notes that well. Other than that, overall performance for the tracks are quite alright. Honestly, I nearly fast-forwarded
MOON
lolz…because I'm not into that song.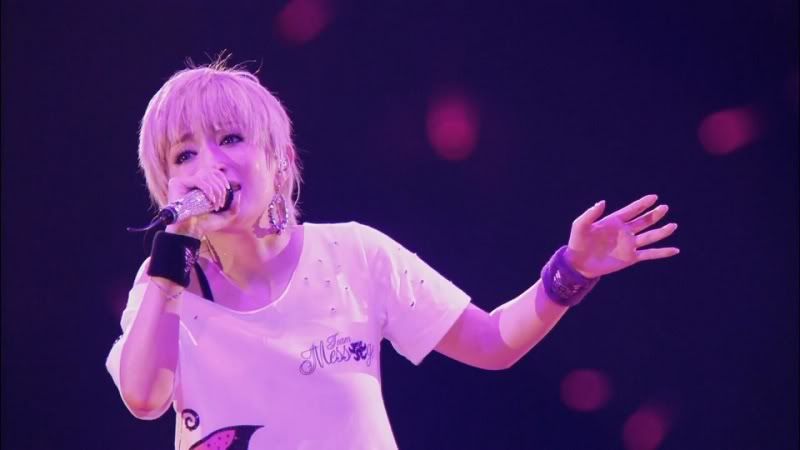 After that, she takes some time to interact with the crowd, urging them to shout together with her. Then she continues chatting with them. She announces the new drummer to the crowd. Then, running out ideas to talk about, she asks for Yocchan's (guitarist) opinion. He jokes that there won't be any talk segment and that it's over after greeting the crowd lol…which of course can't happen. They both walks over one end of the stage, which gets the crowd there really, really excited. They mention how that has always been where they put the stage before. Yocchan then realizes as they walk towards or away from the stage, their size on screen is constant. That is RANDOM and FUNNY!
Ayu, you're 32 this year...
Ayu wants to know the band members' new year resolution. So all of them announces theirs one by one. Well, one of the funniest is the new drummer's resolution. He wants to be able to eat carrot. Like seriously, NINJIN?! He justifies that he hates carrots. That gets the crowd bursting into laughter. Ayu suggests that the guys try out the middle ministage that can be raised and then spin them around, just to give them a feel. His resolution is "Chanto yarimasu" Say again? LOLZ…what's up with their resolutions, none of which are normal. Well the talk takes up about 20 minutes.
notice how Yocchan and Ayu try to shake hands on the screen but not actually doing so? HAHA
trying to figure out one of the backup singer's resolution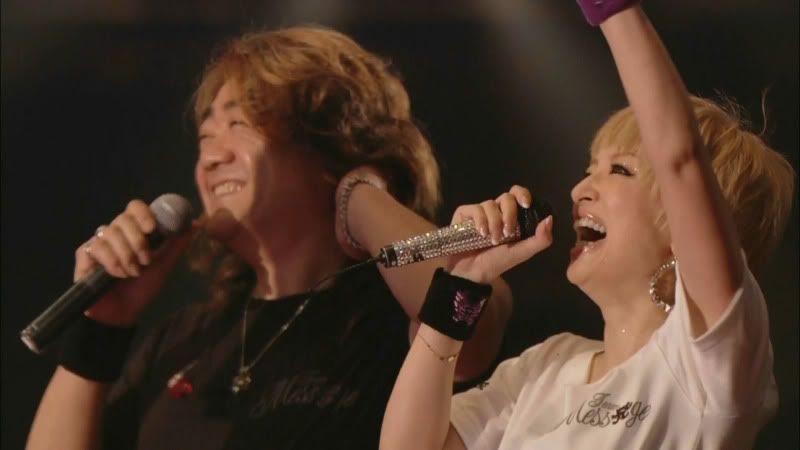 waving at their keyboardist on stage...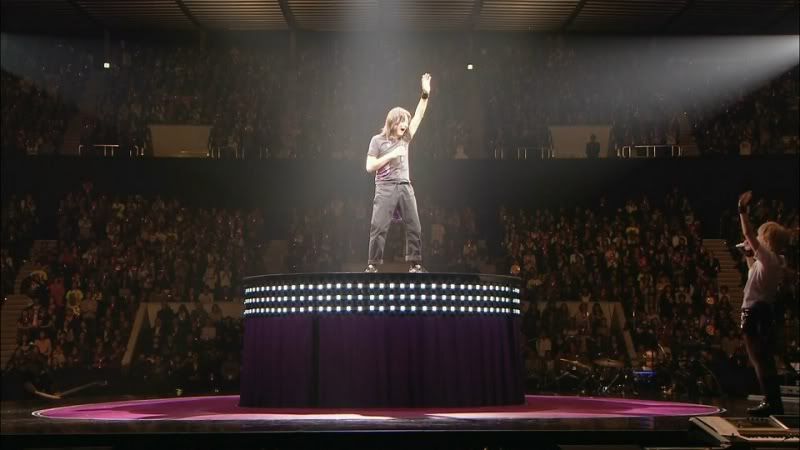 lol...tsk tsk
Trauma~AUDIENCE~Fly high~flower garden – This time, the digest is compiled of her older tracks. The dancers are back, all dressed in purple T-shirts. I like Fly High the most while the rest are pretty normal.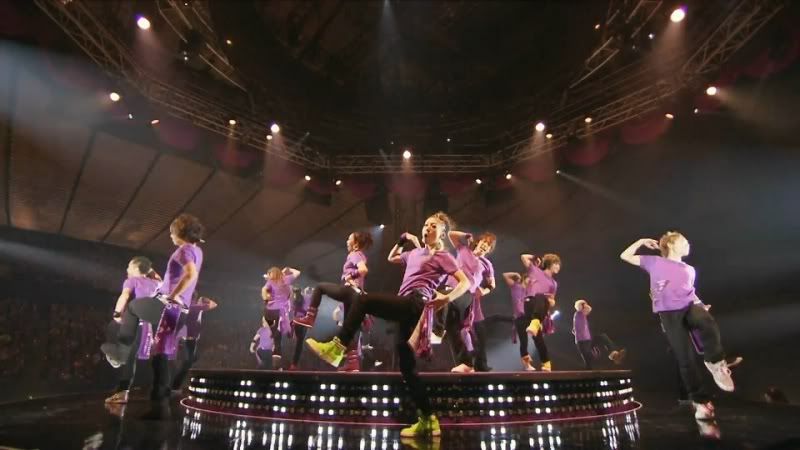 Thank U – I'm not that familiar with this song so it is kinda so-so for me. She introduces the dancers during this track. I realize she has a LOT OF NEW DANCERS. The old ones still remain, some of which are my favs, thank god.
Damn, why can't they give a proper shot of Maro! and that dance he's doing...what was he thinking? hahaha...
balloons!
their thank yous...
The final song is
do it again
...which shouldn't come as a surprise since the countdown's named after it.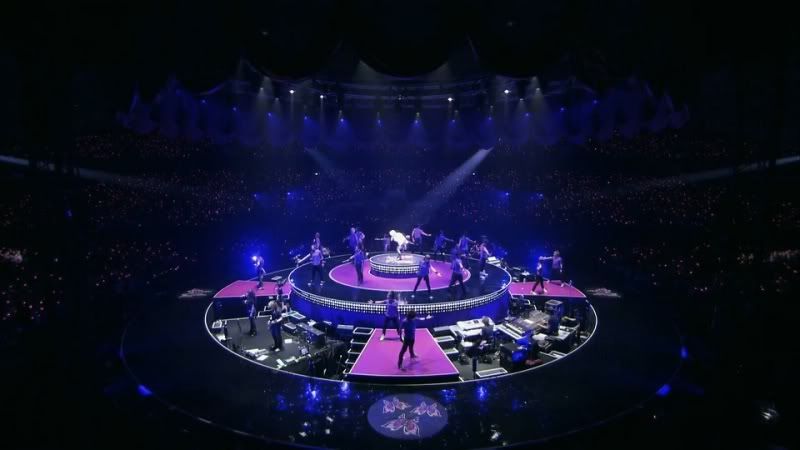 FINAL THOUGHTS:
The Hits - Like I mentioned in Part 1, some of the highlights are definitely the middle stage style (as compared to previous ones), this gives the audience a more 3D style I suppose. Besides that, there's also the laser displays...breathtaking! The whole setup is a more toned down atmosphere, purple being the theme colour and overall, the props are minimal, no bright colours, and edgier. I like dark colours so that appeals to me. The rotating stage is pretty well done. Her vocals are quite stable during most of the tracks, some more powerful and solid.
The Misses - Because of the nature of the stage, most of the time, I find her being blocked by her dancers, especially IF she's on the same level as her, hence preventing close-ups of her. Selection of songs, some of which I hope she has done but decide to change. Some difficulties when hitting lower notes.
Overall, I enjoyed it...well it's hard not to since it's very well planned up until the greatest details, as usual in a Ayu concert. Actually, I was thinking since her left ear's completely deaf, it might somehow influence her singing during live shows, but amazingly, it doesn't seem to affect her at all. She still gives a powerful performance, convincing us that she can still deliver despite her hearing problem. I'm pretty satisfied with this countdown and can't wait for her new tour. I'm wondering what new ideas will she showcase in the upcoming tour and how she's gonna take it to the next level. I just hope she doesn't utilize the middle stage style though.
Rating: 9/10